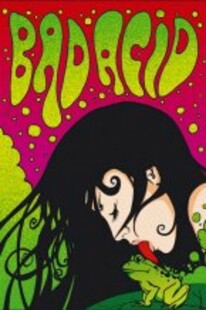 Bad Acid is a fantastic little zine that fully embraces the multimedia future we find ourselves living in, not only is it pretty damn regular, we are here onto volume (or tab), number 6 and it's packed full of audio-visual and aural delights.
Where to start? The 57-band mp3 compilation? Well that's a good introduction to what you can expect, everything from doom (Capricorns, Hey Colossus, Moss) to stoner rock (Acid King, Litmus, and Orange Goblin) to downright noise and artists touching another astral plane (Pupilar, Last Good Sleep, Raw Radar War). You'll find alot of UK talent on here, more than usual, Humanfly, Aluna, Taint, Charger and We Are Carnivores feature.
The zine that accompanies this (pay attention paper fans) is full of information, interviews, photos and interviews with the bands featured on the compilation, and frankly, it's almost too much to digest in one sitting.
To further prolong the Bad Acid trip, comes the DVD, a well-executed collection of videos, both live and produced, all linked with great animation from the Bad Acid team, this particular edition features a cracking set from stoners Ogre, some wistful instrumental material from Antonius Rex, a fantastic tour diary video from the UK's Manatees (my house actually features in this) and some downright depressing shorts from Nesta and Northwinds.
Get on this if you want to see bands rarely given any time on screen, and especially if you want to discover some new bands and styles, absolutely essential, order your copy from http://www.myspace.com/badacidmagazine and check out their back catalogue too.