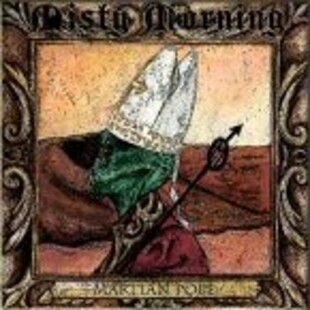 Good gravy, this is special... Italian Cathedral-worship, with lyrics inspired by Warhammer 40k? Why, that's exactly what my jaded musical palette has been crying out for.
On first inspection, this five track EP seems to have been put together by following some sort of stoner/doom checklist:
Colourful front cover of dubious artistic merit? Check.
Lyrics laid out in an 80s teletext font over a photoshopped planetscape? Check.
Ridiculous song titles? "My Wicked Dream (the fabulous trip of mangustadrone in the land of cobra porn)" should cover it.
Sadly, this doesn't stop with the packaging. The music and lyrics are more or less a photofit of the genre through the ages. A riff lifted almost note for note from Unida's "Thorn" pops up at one point, and nestles uncomfortably with a plethora of cuttings from Gaz Jennings and Jus Oborne's scrapbooks.
The lyrics don't ever fully recover from the opening salvo of, "Misty Morning are playing tonight, without warning the mushroom grows high", delivered to the melody of Sabbath's "The Wizard".
As for the vocals themselves... well, if you've ever wondered what an Italian doing an impression of Lee Dorrian might sound like, now's your chance to find out. If you fall into the 99.9% of the population who've never given this any thought, then this probably isn't the band for you.
Still, if you're feeling down, hearing vocalist Luca bellow Dorrian's classic "HUGGY BEAR, OH YEAH!" in the middle of final track "Astrosarcophagus" should have you smiling again, but probably for all the wrong reasons.
This is unashamed genre worship, but unfortunately it's also completely uninspired. OOOH.. no.