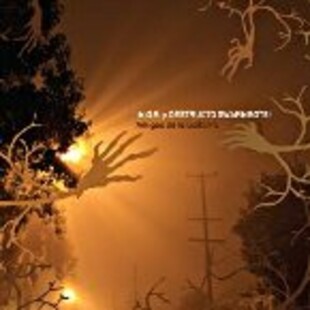 Comprising one instrumental track entitled "Amor en el Aire", which clocks in at around 42 minutes; played entirely on two guitars it's fairly safe to say that I won't be cracking this one open very often. However, far from being something I would consign to the "too long, too pretentious" reject bin, "Amigos…" is a carefully thought out piece of work – something that is hard to find in today's climate, stuffy with half-arsed soundscapists and tedious Sunn O))) (EVERY fucking time I type that capital o and three end bracket bollocks, I feel the need to punch myself in the cock for being too much of a cunt) fanboys.
"Amigos…" is a collaboration between Mike Gallagher from Isis and Mike Mare of Destructo Swarmbots, ably helmed by Alap Momin from hip hop noiseniks, Dälek. Anyone who likes any of these bands, G!YBE (more smug punctuation – yo fucking ho), loop pedals and thoughtfulness will lap this shit up. Equally melancholy and menacing, this recording is proof that heavy doesn't just refer to how loud your amps go or how insanely tight and right-on your drummer is. In fact, this record isn't classically heavy at all. It resists the temptation to touch itself in the dark by sending out squalls of feedback to show how fucked up and sexy everything is. The twin guitar attack is more plaintive than oppressive and, instead of ever so authoritarian insane-robot-having-a-tantrum style power electronics blasting your stupid tits off eight ways 'til Sunday, static and white noise hums, crackles and scratches behind you liked something really fucking bogus is going to happen when you DARE turn the record off. This is where Momin's influence is most apparent. Throw some sick beatz down under this and some rhymes over the top and you've got yourself some righteous Dälek.
This is definitely mood music, and not something which is suitable for any situation unless you're a very special kind of person or fucking mental. If you give 40 odd minutes to blaze some easy reefer, eat some crisps and drink some high class wine whilst listening to this, then you've got it pretty much sussed. Having said that, this is not an easy listen (although nowhere near as challenging as other groups) and probably not for you if you're easily distracted. For me, the electronics make this album, propelling it from two blokes with guitars making sad and pretty music by fattening out the sound to an almost visual level and creating a sense of grim foreboding. In all honesty, I was expecting to despise this as it encapsulates pretty much everything I try and avoid when buying records, yet I find myself surprised and humbled. If you're into records for how they look on shelves, then the packaging was done by that one out off Isis so it looks proper job as well.