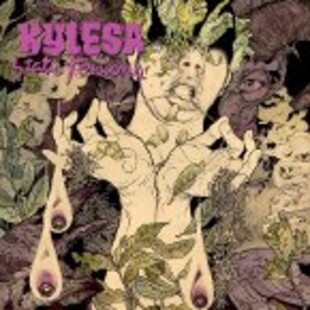 The bastards have done it again.
Just when you thought Kylesa had finished off what they were capable of with their last record (the incredible 'Time Will Fuse It's Worth) they come back with even more concentrated awesomeness in the shape of the rip-roaring 'Static Tensions'.
Opening with a trickle of percussion from both drummer (yep, they still have two) it's business as usual, desperate-sounding male and female vocals dropped over a crusty, stoner rock, sludge and just generally cracking soup of scum.
But this time, the two drummers sound like they have thought about their arrangement, recording perhaps a split second from each other, the overwhelming sound they make is one which simply pulls out all the stops, sounding like a stamina-test at times, the production is similar to previous releases in that it lets them both shine.
Standout moments include the fast-paced 'Insomnia For Months' which cracks full-steam-ahead from the off and simply doesn't stop, in stark contrast to more eastern melodic influences creeping in again for slow and atmospheric 'Running Red' where vocalist Laura Pleasants simpy shines. Alluring and softly-sung siren one minute, pitbull the next, this is perhaps the best track she has performed on with the band.
Therein lies the reason why this album appeals, a band focused on their strengths and building unashamedly on it over the course of several releases, getting better with each. Take note Mastodon (who told them they could sing?).
If you are already a fan of the band, then you know you already need this, if you are new to the thundering powerhouse that is Kylesa, you simply need them in your life, this album is simply further proof.