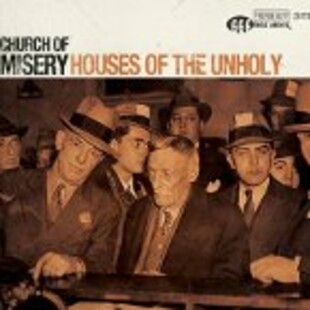 It's been 5 years since Church of Misery's last full length, that's not to say they have been quiet in that time with 9 other Splits, DVDs, EPs and / or re-releases so has all that time been worth the wait? In a nutshell, yes.
Houses of the Unholy kicks off in true CoM style with feedback and an audio sample of their chosen murderer (and cult leader) Adolfo De Jesus Constanzo who this time round is one of six. The 7th track (no. 5) being titled Master Heartache seemingly a Sir Lord Baltimore cover following on from their popular cover of May Blitz' For Mad men only on their Sourvein split. Throughout this is clearly church of misery, equal parts doom and psychedelic, as brutal as it is mesmerising.
Closing with "Badlands (Charles Starkweather & Caril Fugate)" of which latter parts bring to mind a Pantera feel, not so much the metal but more the feel and tone, I'm left thinking its fair to say that this lives up to the standards already set by the band on their previous efforts but it never really exceeds them. Whether this is a good thing or not I cant decide, its a brilliant album don't get me wrong but there is no real reason that 'd choose to listen to this over anything they have already done.
For those of you who prefer to look at your records than play them, Rise Above have decided to release this on 2 x 12" in either Pink Sparkle, Transparent Lime, Clear or Black. It'll cost you around a million pounds but side 4 is etched so its going to be cool, well as cool as a Pink Sparkle 12" can look.