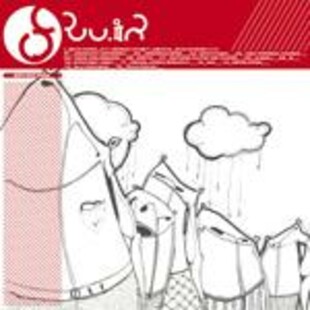 'Iots' is Flu.ID's debut release for Exile on Mainstream records, collecting two of their previous 10-inches as well as additional electronic interludes and bonus tracks. All the original recordings have been completely remixed and remastered, making this a good starting point for anyone curious to hear Flu.ID's work.
Opener 'Ordinary Different' begins its assault with a clever staccato groove, which quickly mutates into a molten stomp before performing a flawless u-turn into a spiralling hypnotic minor chord progression. Visceral, bile infected screams issue forth from the chaos, slotting into place as the final piece of this intricate aural jig-saw puzzle.
Flu.ID tear through fourteen tracks of complex technical noisecore, pillaging a variety of genres as they go. Their overall sound is familiar, with the band exploring much the same territory as genre forerunners like the Dillinger Escape Plan and Botch. However, that isn't to say that Flu.ID don't have their own take on things. If anything, the band display to a wide spectrum of ideas without ever sounding too fragmented.
On 'Necromancer' for instance, the band are joined by guest vocalist Jessica, whose contributions do much to up the ante. Her impassioned high register screams add a great deal of character to the music, making this one of the standout tracks of the album. Like Circle Takes the Square and Kylesa, Flu.ID use dual male / female vocal interplay to great effect.
The band continue to diversify their sound with the inclusion of a number electronic tracks, some of which are more realised than others. At their best, they offer up a tasteful brew of ambient soundscapes and glitchy beats, other tracks however, do not fare so well. 'Zeugli' for example, spontaneously breaks into an ill advised spate of Gabber house that just seems deeply out of place. These occasional forays into electronica are mostly very well composed but I can't help feeling that they hamper the flow of the album. I'd be more interested to see these satellite entities worked into the songs to form a more coherent whole.
As chaotic as their music can be, the band deserve credit for employing a certain amount of restraint in their song writing, wisely avoiding the urge to rely on technical flare alone. More to the point, they strike a successful balance between the cerebral and good solid heavy riffing. In many respects they remind me of British noise mongers Art of Burning Water, tapping the same potent well of venomous groove laden tech metal.
These small quibbles aside, Flu.ID show a whole lot of promise and 'Iots' hangs together surprisingly well for a collection of tracks culled from disparate releases. If the band continue to capitalise on their strengths, I can see them delivering a rather special album next time round.