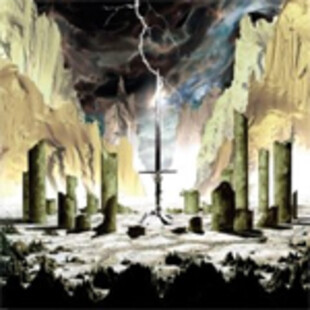 "How heavy this axe?" croons J.D Cronise in his Ozzy-style voice on the new album from The Sword, well, I'm not sure about your axe son, but this album is full to the brim of heavy riffs, thundering bottom-end and more lyrics about gods, witches and other dungeons & dragons tales. Everything that made their debut album special is on display here, and without sounding like a salesman, they really have moved the goalposts and gone for a more expansive and epic approach, but without losing that core sound that won everyone over first time around. A crisp production and a more focused songwriting approach keeps things in check and there's not a whiff of filler around, this is all killer.
It isn't long before the acoustic intro is booted out in favour of a thrashing gallop, which is more prominent on this album than the first, and an overheard comparison calling this their 'And Justice For All' rings true. Riffs are dispensed with quicker than lager turns to piss, such is the power of their 6-string armoury, but fear not, they never descend into the dreaded land of fret-wankery (in the same county as the realm of keyboards). All of this is underpinned by a rhythm section providing a solid foundation for guitars to duel over and patches to be sewn onto denim.
If Mastodon can hit the big time, then I can see no reason why The Sword won't be making the same leap to major label record deal, and high-profile support slots (which they've just bagged, supporting Metallica on some dates). Buy this and weep into your pint of Odeur de Blaireau at the majesty of heavy metal. High On Sabbath, anyone?