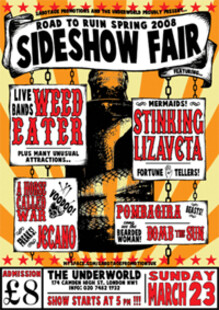 It's fucking freezing in Camden (indeed there will be a brief flurry of snow at one point later in the evening) but fortunately the Underworld is as toasty warm (and unpleasantly fragrant) as usual so it's all eyes down and look in for what promises to be quite a day for enjoying a bit of Thee Olde Riffery.
Much to my pleasant surprise, on arrival I discover that today's six band bill has swollen to incorporate a seventh and it's none other than my adopted home town Swansea's own Bomb The Sun! It's been well over a year since I last saw these guys and they've certainly not been idle in the interim. Most notably they're now sporting a second guitarist to flesh out the sound, and whilst their unabated Kyuss worship remains intact this new input has helped diversify it by adding a smattering of nods to other similarly vibed bands along the way to give a more informed and flowing performance with singer Al's voice also being greatly improved. A strong performance from a UK band to keep an eye on if you have any love for the desert groove left in your heart.
Pombagira are next and easily one of the loudest things you'll encounter any time soon despite only being a three piece what with guitar and bass both running through a couple of cabs each. As a result of the 9hz connection (the Pombagira bassist being forum regular Donny of Among The Missing 'fame') I'm at least partially aware of what to expect, i.e. Doomishness. What you get for your money is a bruisingly loud and heavy 'Dopethrone' era Electric Wizard styled beast of a riff machine which throughout the set also constantly nags me with a similarity to Irish Doom mongers Slomatics as well. All this adds up to a very promising message of intent from the band and I'll certainly be keeping an eye out for their soon to be released first album. Although perhaps one very mild criticism? This kind of music can get a little tedious if given a little too much free rein, perhaps either a slightly shorter set next time or maybe remember that Electric Wizard weren't shy of a up-tempo stomp along or two on 'Dopethrone' to mix things up a little. Just a suggestion...
When I first arrive at the gig I notice another lad wearing the same Charger hoodie as me, realistically speaking I should have guessed straight away that it was Dave from A Horse Called War considering all the jokes I've cracked ever since hearing their first CD-R demo regarding the similarity between AHCW and Stokes finest. Right so there we are, got that bit out of the way without upsetting anyone hopefully. As for the boys set I have to say it was quite possibly the single tightest performance of the day barring the yank contingent with the Hoss boys (all looking a lot younger than I was expecting as well) seriously giving it the beans big style on their uber abrasive quick/slow/quick/sloooooooooow sludge. Bastard heavy and wickedly together, A Horse Called War are... err... Bastard Wicked...? Hmmm... yeah that seems fair to me!
Tim Holehouse's musical outpourings are very rapidly becoming a total enigma. Today he ignores his more alt-folk stylings in place of his drone work as a result of the rather overtly 'metal' line-up he's complimenting. The music itself is carefully layered, building from soft lullaby to earth shattering cascade, bathed in reverb and delay, taking a long and winding spiritual journey with each new turn from one part of Tim's mad scientist mind to another. Unfortunately the audience are mostly ignoring this as they're all far too interested in why there's some dude in a suit with a rubber horse mask on his head on stage by himself twatting about with effect peddles. This is somewhat unfair as Tim's music will wash over you, carefully soothing and enticing all the right parts of your cerebellum to just help stave off that tired, worldly wear and tear if you'll let it. The suit and horse etc are all as much a part of it as anything else, but so many people merely take a picture to put on Facebook and then leg it back to the bar that he never really stood much of a chance, although that said he gets a fair round of applause at the end of his set and almost all of it is as warm and genuine as his music is for those in the right mood to hear it.
Jecano are the last of the local talent before we move onto the main event of our cross continental brethren. This is unfortunate when you consider that they're also probably the dullest band of the day. I just don't know what it is about this band but despite thinking they were amazing the first time I heard an EP and saw them live they've always bored me to tears when ever I've seen them since. There just seems to be no... ooomph involved. It's all Clutch/ACDC/Thin Lizzy etc by numbers... Don't get me wrong as always it's played brilliantly and well written and all the sort of stuff that should leave you gushing about a band but again I'm just left cold. Sometimes I wonder if I've just moved past this kind of music but then I enjoyed BTS earlier in the days proceedings and I happily rate Suns Of Thunder as one of the finest bands in the country so that's not it either. Who knows...
A few years ago I went to see Clutch and Corrosion Of Conformity at the Cardiff Coal Exchange and a band called Stinking Lizaveta opened that I'd never heard of before in my life. When they took the stage I was somewhat startled to discover the fact that they all appeared to have gone to Woodstock THE FIRST TIME AROUND only to then have their mad jazz-tinged melvinsy/hendrixy spazz outs firmly kick my ass and leave me bruised but wanting more. As a result my expectation for tonight's set is rather on the high side to say the least although I was somewhat concerned that knowing what to expect may lessen the damage caused. Talk about a miscalculation! SL are truly on form tonight, chatting happily with the crowd (they get the Best On-stage Joke Of The Night award for the comment "We had to write a letter to the President to let the Weedeater out of the country, seriously man they've been banned from France and they don't actually know why!") and obviously loving every second of the insanity they are so deftly wringing from the respective instruments as they romp through a set that, in all seriousness, I consider to be conclusive proof that all three of them must be Autistic as I'm sorry but normal people just cannot do that sort of thing! Just spectacular stuff from beginning to the all to soon an end.
Finally it's time for Weedeater to take the stage. Not to be rushed by anyone we're treated to a good fifteen minutes of feedback before all is finally deemed to be well and they get going. I'm a reasonably new convert to this band after getting their latest album 'God Luck And Good Speed' for Christmas, but their flat out refusal to move away from the original sludge blueprint of huge fuzzed out bass tones and more groove than one person could realistically want or need made it feel like we were old friends almost at once and live it's all here: The Groove, The Bottom End, all in spades. With a set culled mostly from the afore mentioned latest opus and a thirteen year absence from these shores to make up for (Weedeater having risen like a fighting drunk phoenix from the ashes of the monstrous and equally 'lets all get totally fucking bombed' styled Buzzov*en) the band lay it on thick and heavy and despite putting away more beer between them in an hour long set than i could probably manage in a full weekends hard drinking everything flows wonderfully with nary a rough edge to even consider spoiling the overall effect. In fairness, is there anything particularly new and exciting involved here? Did I get any kind of new appreciation of them differing from the recorded versions of these songs? Err... well no, not in the least. On the other hand, do I really care...? Err... well no, not in the least. Weedeater pretty much equate to the Ronseal of Sludge: They Do Exactly What It Says on The Tin. And personally, I have pretty much zero issue with that.