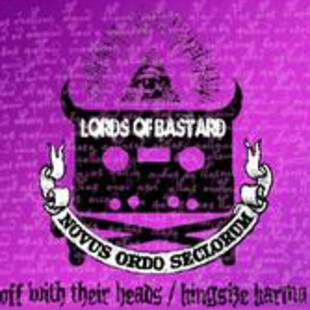 Hailing from Edinburgh, Lords of Bastard unleash their debut single through SL Records, with their own brand of punked-up sludge.
'Off With Their Heads' kicks things off with a filthy rolling riff and a melodic vocal, before it goes one louder on both distortion and intensity of the vocals, and with a nice shift in temp too. It definitely has that early 90s vibe to it, that has become timeless in my eyes, but with a stoner twist evident in the galloping end-section, before it ends abruptly at a shade below two and a half minutes.
Second track 'Kingsize Karma' is the longer of the two on offer, and starts as more a doomy affair, with a nice feedback drenched intro and sloth-like pace, before a good old galloping stoner riff kicks down the door and sets the pace of the song. It's touches like these that you come to appreciate, as rather than sticking with one obvious style or genre, these guys know how to mix it up and keep you on your toes. Like how the cleverly timed mid-section throws you off kilter a few times, before a nice clean break, and then it's back to familiar territory with another rifftastic end-section.
It's loud, filthy, and has great dynamics and brings bands like The Melvins, Unsane and early Soundgarden to mind. There's enough on display in these 2 tracks to show that these guys have the riffs and ideas in their musical locker to make an interesting long-player, and that would be something I'd look forward to.