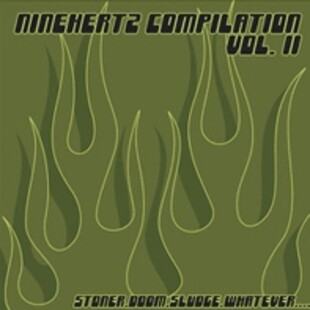 So, here we have another compilation fron Ninehertz, featuring some of the best underground bands from the UK that the scene has to offer, who also contribute to the website in one way or another. This is a seriously d.i.y affair, so don't go expecting any Bob Rock-style production, as everything on offer here is raw and just how it should be. Volume II encompasses all the styles the website covers, so instead of a typical review giving a broad view of the compilation, I'm going to do each band justice and give a sentence or two on each.
Battlewitch - 'Merlins Ryffe' is a trad-metal affair, with soaring vocals and galloping riffs that remind me of being a teenager and leaping around to Iron Maiden in my bedroom. That's a good thing in my book.
Stubb - A power-trio playing dirty and raw Hendrix/Cream style blues. Guitarist and vocalist Jack is an absolute wizard on the guitar, letting loose wah-wah drenched solos, and marrying a nice lead with a falsetto vocal. If I close my eyes these could in black and white on the tv on The Old Grey Whistle Test.
Among The Missing - Weighing in with a track off their 2nd long player 'Cease to Exist', the 'Mong do what they do best by mixing up genres varying from hardcore to doom, via sludge, throw it all in the melting pot and serve it up nice and filthy. Donny and Pat also do a sterling job on vocals, after the departure of Tim.
Grifter - What a riff! This is pure stoner heaven, a thick rolling riff that get fists pumping, before it eases back the throttle for an anthemic chorus, and before you know it you'll also be singing "Sweat like horses, tastes good if you know what I mean, oh yeah!"
Domes Of Silence - A nice laid-back and loose style of stoner, that bring Kyuss and early Tool to mind, with repetitive riffing, and some mighty fine instrumentation.
Castor Troy - Not what you'd class as a typical Ninehertz band? Well, that's where the whatever bit in the tagline comes into play. At a minute long, this is brutal hardcore, and is up there with stuff like Converge in terms of intensity.
Mothertrucker - Instrumental riffage, nice dynamics that mixes up early Queens Of The Stone Age with Isis and their ilk.
A Horse Called War - Powerful sludge in the vein of Eyehategod and Charger. A driving discordant riff powers the song along which has an air of unhinged violence.
Aluna - Trad-doom meets trad-stoner, with laid-back dreamy female vocals. A breath of fresh air in a genre full of grunting men.
Outburst - A foot-stomping riff, coupled with a memorable chorus, another recipe for success, and finished off nicely by easing off the accelarator and grinding out the main riff by slowing it down as the finishing line approaches.
Truck Driver Junior - When I hear delay pedals, a clean tone and minor chords, I fear an Isis-esque clone is apporaching, but thankfully what's on offer here is a powerful and driving song, that uses dynamics well.
Tyre - Insistent riffing, a thundering rhythm section and harsh shouted vocals, all bring to mind the best of the mid 90s bands like Quicksand, Helmet and Unsane.
Only Until - A rollercoaster of riffs and changes, drenched in all manner of swirling effects, that sounds like Cave In.
Cicadas - Cowbell, fuzzy riffs and a laid-back vibe that has an auora of Josh Homme about it.
Tim Holehouse - Trading in topless bellowing with Among The Missing, for a more introspective folk approach, with mournful vocals and finger-picked acoustic guitar.