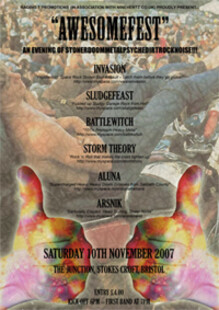 I have noticed that something peculiar to Bristol is the ill providence of treacherous hills that force the gentle walker to perambulate in a most undistinguished and painful manner, that one simply does not have to suffer amid the leafy sprawl of South West London. Such topographic complaints aside, at the bottom of these hills - traditionally where the poor folk of the docks lived - is a wide and satisfyingly varied selection of brothels that my good friend, Richard, used as orientation to find the Junction. Small and smelly - fucking ace.
Such spartan environs seemed perfectly fitting for local crust tinkers, Arsnik. Falling somewhere between Discharge and early Napalm, the racket these whey faced adolescents produce is gloriously chaotic and frenzied, which seems at odds with the dexterous musicianship on display from the individual members. Who gives a shit anyway. They certainly don't. Even an abortive cover of 3 Inches of Blood's "Deadly Sinners" doesn't temper the party vibe that's happening onstage. Good for them. Have a bag of Pear Drops on me. Splendid.
In contrast to the local geography is Aluna. Undulating and pleasantly rolling, these Brum groove peddlers seem the perfect antithesis to the previous set's youthful exuberance. Pausing only to swig from a pint of some godawful looking concoction, the band's singer is the obvious focal point, adding a grand old set of lungs and some lady swagger - uncharacteristic to the desert rock genre - to the more characteristic sweaty fucking hairy dude aesthetic. Musically, a watertight performance. Hazy west coast psychedelia meets loping desert grooves meets a more traditional hard rock (go on, doom if you will, you devil) sound, native to the band's hometown.
Despite this, I couldn't help thinking that a little self confidence was lacking, but this is a minor criticism and one that the band's busy playing schedule will iron out.
A bit of Jefferson Sabbath anyone?
And then! Out of the patchouli and dust laden fug of Aluna comes the quite, quite spectacular, trans generational party rock n' motherlovin' roll of Storm Theory. Despite having a name mugged from some shit emo band, these lot bring the party like the venue's about to explode. With the singer's mighty jubblies threatening to break free from her bondage top at any given moment, it just might. This lot are freakin' great. Straight up. Happy music played by happy people out for a laugh. Good times.
Kind of like a bomb full of bastard going off at a one woman hen night, if they had played a high school prom in the fifties, concerned looking parents would have escorted their charges from the building, muttering "gee...that was definitely not swell. They've made Jesus cry."
Speaking of making baby Jesus cry...
Solos are gently creamed from fretboards like a fine butter and drums are thwacked with consistent mighty bombast. Basslines gallop by like wild horses on the Camargues of Southern France and vocals and mild abuse are yelped with Halfordian/Sniderian urgency.
Battlewitch canter onto the stage, proud as game cocks and proceed to treat the assembled throng to half an hour of electric TNT. Fists are pumped and the kids down the front start going a bit tits-up nuts. The musical equivalent of incense, wine and candles, these are definitely stout lads you wouldn't take home to mother lest she banish you from the house clutching a bible in one hand and her knobbly stick in t'other. For shame!
Anyway, I watched their set and got totally pumped up and had to go outside and think about getting totally pumped for a bit.
Bravo, I say, Sirs.
Sludgefeast believe in keeping things short and sweet. Songs lasting little over a minute were played with such rapid succession that one was left rather disorientated by the whole experience. The frontman pulled some of the greatest shapes I have ever seen, and I shall attempt to add them to my own repertoire pretty quick. I believe him to have been a Celt of some kind, owing to his accent and vernacular. Or perhaps one of our American cousins. I can't remember, I was pretty fucked up by now. Awesome.
Anyways, they were pretty incredible and sounded real nasty and skanky. I believe the Daily Mirror once said they were shit. I personally take that as a pretty good recommendation, given that a lot of tabloid journalists are a bit self hating for some reason. The ones I know are anyway. Defiantly uncommercial, I think is more suitable.
Right on, right on. Squidgy three string guitar - check; Crazy ass drumming - check; Cowbell - check; vocals that sound like they're off an atlantic sould rekkid - check; branded cushion! Tally ho and chocks away and oh my fucking god, it's Invasion, another band who recognise that, sometimes, brevity is the soul of wit.
Completely implausible on paper, this lot are really pretty fucking mind blowing. I first saw them in May and they impressed me greatly then. However, since, they appear to have grown tighter and more focussed. They also possess one truly great drummers, which is always a good thing. Their songs are like nuggets of psyche-metal-pop-r n' b with a bit of grind thrown in for shits and giggles. For three people, they make a right ruddy load of noise and it never becomes apparent that they are minus a bassist.
Bloody great end to a high voltage rock and roll spectacular.
I'm off for a curry. Woop!