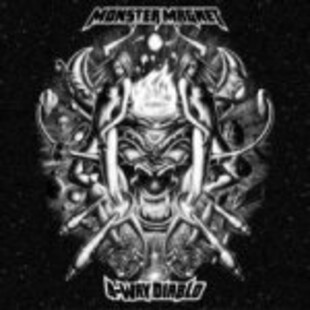 Let's be honest, anyone with more than a passing interest in Monster Magnet will forever be debating the merits of the early 'Spine of God' style over the later more polished releases. '4 Way Diablo' will probably not win over the supporters of the former argument but the mixed diversity of maybe 'God Says No' coupled with the psychedelic touches of 'Dopes...' is a winning formula and one which should persuade most that Dave Wyndorf and co. can still conjure up the head trips when the mood takes them.
The stripped down 60's feel of the title track and the full on rock of 'Wall of Fire' pretty much sum up where the Magnet is right now. A little older (or wiser?) sounding maybe but still ballsy enough to make the claim that it's "back and has a cock made out of platinum!" Admittedly 'You're Alive' is definitely filler material but is still enjoyable enough and tips its cap in the direction of AC/DC's 'Dirty Deeds...' so just how bad can it be?
Mixed in with fun however is the class of tracks like the moody 'Cyclone', the addictive 'No Vacation' and an ace cover of the Stones' '2000 Lightyears from Home' (which fits perfectly here), all leaving you wanting to hear them full blast live with the light show. The crystal clear mix throughout really lets Ed Mundell drive the songs with the main guitar without sounding like he wants to put his size 10's all over them... a trick which some rock bands never seam to grasp.
The intriguing 'Little Bag of Gloom' fits in with previous mellow album closers like 'Black Balloon', 'Your Lies Become You' etc and this continuity underlines the way the album sits comfortably with the past without being a bad parody of any previously mentioned era. When I heard that this album was finally coming out I was relieved that Monster Magnet was still a going concern. Now after hearing it I'm relieved that they are still one of the best out and out rock bands on the planet.