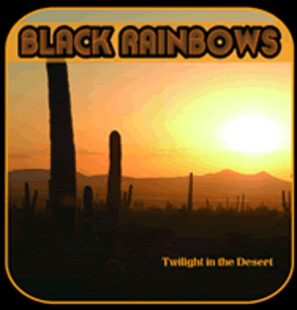 European stoner rock band's unashamed use of genre stereotypes has always fascinated over the last decade. The 70's influences and drug references are one thing, but the frequent homage to desert living is quite bizarre coming from natives of Oslo or Eindhoven. Whether this is due to lazy mimicry of American past stoner glories, or a collective mood that transcends mere location - a reflection of spirit if not physicality, is open for debate. Musically the genre is subject to similar questions. Stoner rock as a whole has (wrongfully) been dismissed as unoriginal for a little while now by some 'outsiders'.
Black Rainbows are a band that reflect all the above and raise the old arguments. Their album title and cacti-ed cover art appears at odds with their Italian origin, and the music, a "desert, stoner, space, heavy psych rock" blend, brings to mind several oft cited influences. A deeply ingrained Kyuss-shaped groove runs the length of the album, the bass lines on 'Coming Down the Mountain and 'Follow Your Pattern' as big as those from '...And the Circus Leaves Town'.
Whatever the preconceptions, 'Twilight in the Desert' is a commanding album, full of captivating songs. The space-y moog synthesized effects are utilised well, and the general sound sits somewhere between post-'Dopes to Infinity' Monster Magnet minus the pomp and The Heads minus half the drugs. At times it sounds uncannily like Scandinavians We - to a point during 'Constellations' where I'm checking I haven't slipped in their 'Dinosauric Futurobic' disc in by mistake (the astronomic lyrics not helping to distinguish).
Another drop in the ocean of stoner rock from our continent or a worthy take on a still vibrant scene? Probably a bit of both to be honest. You won't find anything original on 'Twilight in the Desert', but what is here is done very well, and provides an excitement that will last beyond the first few listens.