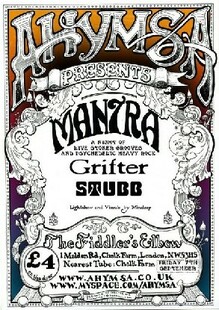 I'd not seen Ahymsa for ages and both Grifter and Stubb had impressed recently at the ninehertz alldayer in Sheffield so I'd been looking forward to this gig for a while. I'd also wanted to check out the Mantra night for ages and it didn't disappoint. Fiddlers Elbow is a great little venue just outside of Camden. It's also worth mentioning here that any venue with trippy visuals and Easy Rider playing on big screens behind the bands is automatically onto a winner. Reasonable beer prices for London too!
After a few initial concerns about the P.A. tweeters the opening band took the stage. Called Eden Child, this was their first ever gig and one which showed some promise and a hint of grunge influence in places. If these guys focus on the better aspects of their songs then they could become a proficient rock outfit given time.
Next up were Stubb, a band who's 'Dropout Sessions' EP I've been spinning quite a bit of late. They opened with 'Galloping Horses' and 'Flame' from said EP and everyone present knew that they were in for half an hour of quality, pumping, psychedelic heavy groove. The rhythm section maintained a tight, relentless pulse and guaranteed that heads didn't stop nodding throughout the set and the guitarist used this platform to great effect, belting out all the right screeches, solos and riffs at all the right times. With only minimal pauses between songs it seemed like no time before their last number. For this they treated us to 'Road' and when half way through the song it became a rendition of Hendrix's 'Voodoo Chile' there were grins all round. The stage was perfectly set then for Grifter to step up.
By this time I was far too drunk to recall anything much about the setlist but that didn't matter as I found myself immersed in riff after riff and the nodding heads all around me started to pick up in intensity. When the band announced that they were going for a slower number I don't think that they were alone in feeling the heat inside the venue. Peering out from my hair it seemed that more and more naked flesh was being exposed all about the place as more and more people got their groove on. I do remember one tune by name though, the awesome 'Sweat Like Horses' which was a highlight for me and I'm certain that I wasn't the only one joining in on the choruses either. Blinder! Grifter are as a good a hard rocking, groove-laden band as you'll find on these shores today.
Headliners, promoters and all round lovely people Ahymsa had a lot to live up to at this point but they're a band with all the tricks in their bag and I had no doubt that they'd play a great set. They didn't let me down. The sound wasn't doing them any favours within the more intricate sections of the songs but the performance was superb and everyone was close enough to the stage to take it all in. The set opened with two excellent songs that I didn't recognise but which prove Ahymsa's newer material to be just as heavy and psychedelic as the songs from their two excellent releases to date. The band have a vibrant energy onstage that is infectious and although some people had left to catch tubes home the remaining audience only crowded in closer and rocked harder for it. Never ones to stay on the safe path, a cover of 'Thumb' by Kyuss was thrown into the set and this itself morphed into an instrumental take on 'Insomnia' by Faithless. It's a move that could polarise a crowd but not tonight and I for one thought it was pulled off with style and confidence by a band who clearly love to put on a performance. I could've listened on for hours but after a couple more originals and a great rendition of 'Sabotage' by Beastie Boys for an encore, it was all over.
I had a great night out and will be heading back to Mantra again as soon as I get the chance. This is a night that all UK stoner and heavy psychedelia bands would find it well worth their while checking out. Everyone got paid and everyone went home happy. Perfect.