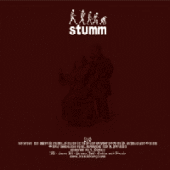 Taunt are a German two-piece, who've drafted in a session bass-player for this recording. It must have been a crowded session, because it sounds like they're playing in an old shed with newspaper over the windows. They have a dirty, lo-fi sound, and don't bother messing about with more than two chords - the object here is to produce something which sounds nasty, not to astound the world with virtuoso fiddliness. The drumming holds it all together - chords are held long enough to let the volume begin to fade, and the drums are spare but interesting; the old adage "It's not the notes, but the spaces between the notes" is particularly apt here. There are no vocals, and essentially no variation in speed or dynamic, but somehow this could go on for another 10 minutes, and it'd still be compulsive listening.
Stumm's contribution starts with the nicest bit of feedback I've heard in ages, played off a big meaty riff. There's no real change in pace from the Taunt track - in fact, apart from a definite thickening of the sound (not so much shed as stinking cellar - you can practically hear the building vibrating above this Finnish three-piece), there's nothing much different happening. This time, though, there are goblin-in-a-tunnel vocals, largely (thank God) free of the horrible reverb which ruins many bands' efforts. The track is slow, sludgy, heavy as hell, and totally compulsive. But with only a minute to go, there's an unexpected torrent of chords at what could almost be medium pace - and then it's over, and you'll do what I did and turn it over to start again.
A very cheeky little number, this 7". Just enough to get the juices flowing. Evil teasing bastards.