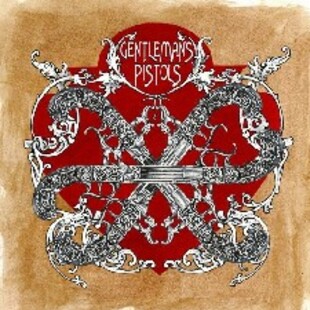 Gentlemans Pistols rise has been relatively swift - from out of the ashes of rough and crusty Northern hardcore bands they came, known only to those in the know in their home town of Leeds, to sign to one of the most well known and respected labels of it's genre in the world, Rise Above. With only a low key tour with Josiah putting them on the radar for most, this album may take many by surprise.
The fact that Leafhound Records, the cult Japanese stoner rock label, is also putting this album out, a debut no less, should go along way to telling you of its quality. Despite the band's tender age and brief recording history (a limited edition two-track single), Gentlemans Pistols have gone about creating an album of supreme quality that will shoot them into the consciousness of the whole stoner rock world.
Gentlemans Pistols play with a confident strut, an infectious enjoyment of 70's rock, elevated effortlessly above your run of the mill retro-rock outfit with the sheer class of songs - and their quantity: there is no filler here. From the moment the brilliant single 'Just a Fraction' opens proceedings onwards, 'Gentlemans Pistols' never lets up. The faster paced riff packed 'Out of the Eye' and 'Lying and Fooling' probably give the greatest rush, but even the slower tracks such as 'Lady' have appeal and give the album a well balanced feel.
With solos galore, and vocalist James Atkinson's perfectly suited voice, then this must be among the finest music of it's kind since it's original incarnation came to an end in the early 1970's. If you have any love for rock 'n' roll with no hint of a modern touch, then you need to get hold of this as soon as possible. Stunning.