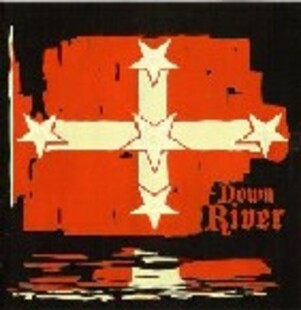 With tracks mostly written between 2000-2004 this debut from Aussie quartet Down River delivers one of the most comprehensive guides to good time stoner grooves since Roadsaw's 'Rawk n Roll'.
No cliché is left unexplored yet the immaculate production and mixing stops any of the twelve tracks falling into filler territory and lends an air of urgency which unnervingly makes you feel that any of the band could start a bar-room brawl in your front room at any minute. An amazing achievement when you consider the whole recording was plagued by both car/computer crashes and no regular drummer. To see what they come up with a focused period of writing and a stable line-up is definitely something worth looking out for in the future.
Special mention should go to the genius that is 'Better Days', a four minute hybrid of The Sword & Status Quo (stop laughing at the back!) which makes you want to press repeat and grab a beer from the fridge everytime...and I say that with no sense of irony!
Those looking for an answer to the meaning of life should probably avoid, unless you want the answer to be twenty four cans of Fosters. For everyone else out on the piss on a Friday night however...well it could well be just what you've been waiting for.