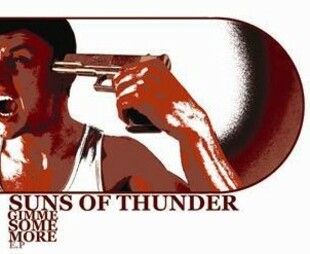 Like the guy with the gun to his head on the cover of this record, in come Suns of Thunder! Swansea's finest weed smoking & riff laden rock behemoths attack you from the off. The title track goes straight for the jugular... the riffs sounding bigger and meatier than on their last offering 'Last of the High Rollers', which was in itself a great piece of work. But this record has more energy and feel to it and with a real sense of urgency...
Next up they have what is one of their well know live favourites 'The Curse of the Mothertruckers' which goes on about killing emo kids for some reason... I'm guessing it's hard to avoid kids with fruity haircuts on the streets of Swansea these days... if these kids had any taste they'd probably all own this CD and not jizz their pocket money at Toni and Guy... I dunno about killing them though... Murdering is kinda against the law (well no so much kinda it is).
New up the most dynamic track of the EP 'A Funeral for a Trend' (ha ha... wonder who they're mocking there). But the beautiful build in pass and volume to the riff that brings in the vocals is breathe taking. This is also the track where the keys really come into their own... and some beautiful sliding riffs inter weave in and out of the track. The song feels like a rock and rollercoaster of a track - just when you think it's gone calm again it picks up pace.
The closer "Mclarens Holy Smoke' proves how tight this lot really are as a unit... and provides a very excellent bookend to a superb EP. 'Gimme Some More' is an excellent piece of work and the vocals from Greg are far superior to their sterling last effort. The band sound so together now and the riffs get catchier and catchier to the point your humming them in your sleep. I can't wait to hear a full length album now from these fellas. I raise my joint to Suns of Thunder!