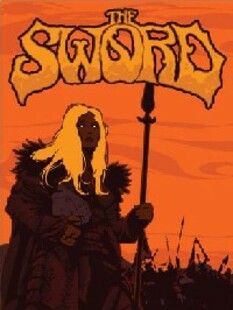 Take equal parts of Black Sabbath, High On Fire, Mastodon and early Metallica, simmer and reduce. What you get, is this fine band called The Sword. Hailing from Austin, Texas, these four young men wowed all with their critically acclaimed 2006 'Age Of Winters' album. Not bad considering they only found their calling in 2004, over a discovery of Ozzy and classic metal.
To celebrate their forthcoming European tour with the mighty Clutch, the band are releasing this seven-inch, and download, of album track 'Freya', and a live version of 'Iron Swan' (recorded at CBGB's in 2006).
'Freya' starts with a riff, an almighty beast of a riff that rolls and grooves, but it only stays with us for 20 seconds, before it all drops out, and a nice chugging riff comes in. Another crushing riff heralds the arrival of the verse, and that makes 3 riffs in 1 minute of the highest order, that most bands would kill for, such is the quality of musicianship on display here.
Vocally, J.D. Cronise sounds like Ozzy Osbourne, and he's singing about swords, war and battlefields, as this song is about a Norse goddess you know, so we're already onto a winner here. There's a fantastic middle section, where a simple two-note riff alternates between a thundering half-beat, and a simple driving rhythm, before it gives way to some of the best harmonized guitar licks this side of Thin Lizzy. They round it off nicely, by bringing back our old friend, the first riff, complete with another blazing melodic solo.
'Iron Swan' starts off with a nice Middle-Eastern sounding clean riff, before a thrash riff steps in and boots it into touch, and asserts itself on the song, and it ends a nice slow crashing doomy riff. There's some more fantastic lead guitar moments in the song, including some splendid tapping that brings Kirk Hammet in his younger days to mind.
So there you have it, two great tracks that showcase everything The Sword have to offer, with great riffs and superb songwriting. Do yourself a favour and get this, or at least go and see them with Clutch.