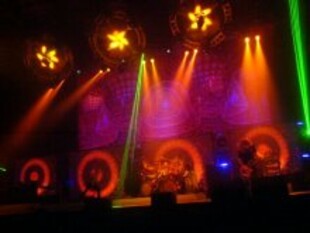 It's been a while since Tool hit these shores for a proper tour (Download not counting), nigh on four years by my reckoning. During that time, they've released just one album which has divided their fans down the middle, in a love-it-or-hate-it way rather than any literal way. This time, they're doing an arena tour too, having moved up from the not exactly small likes of the Apollo where I last saw them. With all this in mind, are they still worth watching, especially at a ticket price of £30.00 or so? Yes, of course they are, stupid arena rules (no bags, cameras, fun etc) and prices (£22 for a tour shirt..) be damned
But first, on to the supports. Some band called Mastodon apparently. Big in the States I hear. Divides most metal type discussions almost as much as Tool. Oh you've heard of them? Personally I quite like them, although all their albums need trimming by several tracks as I often find my attention wandering. I was looking forward to seeing them despite being informed Isis were tipped to support in their place, and as Adam Flatlands said, "Tonight's all about 'Blood and Thunder".
Oh dear.
I realise their latest, 'Blood Mountain' has propelled them into the big time, but any fans from before this year would not have been happy. With a mere 2 tracks from 'Leviathan' and nothing (repeat, NOTHING) from 'Remission' the majority of their set was culled from the newest album. With no 'March of the Fire Ants' or, astonishingly, 'Blood and Thunder', it would have taken a brave band to play this their fans and a brilliant band to pull it off. Mastodon, sadly, fell short. They weren't helped by a sound which turned the more intricate parts of their set into a tonal mush, and there seemed to be some kind of horrible vocal effect on Brent Hinds vocals throughout. However, even these failings couldn't explain the more lacking tracks from the new album. I mean, 'Circle of Cysquatch', I ask you? It wasn't all bad though, the standout tracks from 'Blood Mountain' sounding better live than on record, 'The Wolf is Loose', 'Colony of Birchmen' and 'This Mortal Soil' coming across brilliantly, sound problems or no. Still, the whole thing stank of a missed opportunity and anyone who'd paid for a ticket just to watch them must have left feeling very, very short changed.
So, Tool then. After a long absence from most of their UK fans, they're back, and they know how to write a set-list a lot better than Mastodon, although a lot of their set too was culled from '10,000 Days'. Still, when the feedback stops and the opening riff to 'Stinkfist' kicks in, who cares? As gig openers go, it's a little obvious but you don't notice with the impressive stage setup and Maynard drawing your attention, the latter dressed in a fetching fluorescent orange jacket, black jeans and mohican. The stage is particularly impressive this time around, four screens lined up across the stage projecting abstract images and clips from the bands videos behind each band member. Above this is another screen spanning the width of the stage and is reserved for Alex Gray images from the new album's sleeve, while above this still are three circular sets of lights arranged in horizontally which raise and lower throughout the set. And then there are the lasers. Oh yes, lasers. I won't describe them as I won't do them justice. There are pictures on the net, but that's all they are. Just pictures.
Gladly, it's not just the stage that has evolved in the last four years. Then, the band played the songs virtually identically to how they were on record. Now, there are extra flourishes on the instruments, and Maynard has been given a synth which he prods throughout the longer tracks and between songs while the band tune up. It's not much, but it adds an extra dimension to the show. Special mention has to go to the extended middle sections from both 'Stinkfist' (a version which has been available on the net for years, it has to be said), and 'Schism', the latter sounding amazing with a build up which gradually increases in intensity and speed, before breaking back into the 'normal' version and for me was the highlight of the evening. Not all the songs fare so well, 'Wings for Marie(pt1)' and '10,000 Days (Wings pt2)' sounding only occasionally excellent where other tracks shone, although this has been a problem with the longer songs in Tools set for as long as they've been going and I doubt they're going to drop the longer numbers now. This minor exception aside, the setlist is balanced, and while some may bemoan the prevalence of new tracks, (2 from 'Lateralus', 3 from 'Aenima' and nothing earlier), the set flows well and most of the songs are greeted well by the fans. That said, 'Sober' would have been nice. It's hard to fault the bands performance and the gig is well timed, clocking in at just under 2 hours and by the time Maynard's rhythmic breathing starts 'Aenema' at the end of the encore, you're want them to finish after this track in case the quality starts to slip. Masters of their instruments and with one of the best stage shows in the business in every respect, there would have been few people feeling that the £30.00 ticket cost wasn't justified.