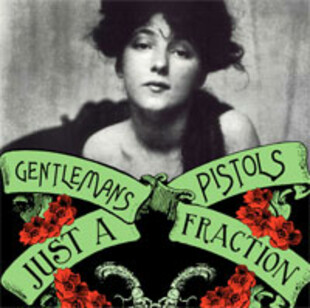 This two track single, released at the time of their UK tour with Josiah, operates as a taster for their forthcoming releases on Rise Above that are due next year. As an appetiser, it could hardly be more enticing for the main course.
Gentlemans Pistols are a four piece from Leeds that state their influences as "1968 - 1973". Short, and to the point. This is retro-rock without any distractions. Both tracks on the single transport you back to a greater time of rock music, making you dance and sing and be happy. The title track is magnificent, the lyrics proposterously sexual - "I don't want it all, I just want a piece of your action" - the whole song flourishing enough sex and rock 'n' roll to make a dead man groove. 'Heavy Pettin'' follows along the same lines, the vocals wonderfully soft, the lyrics blatantly suggestive, the swagger of the guitar matched by the tightness of the backline.
Considering the past bands of the members of Gentlemans Pistols (Sex Maniacs, Vorhees, The Horror), this is something of a surprise, but this is no joke side-band. This is the real deal. There's always been bands grasping on to sounds of previous decades, but often through desperation and the lack of originality. As we rush towards the year 2007, it appears there's a new, fresh interpretation of older times. One where any criticism of when the sound originated from doesn't matter - a new force to be aware of. Gentlemans Pistols may well be leading the way.