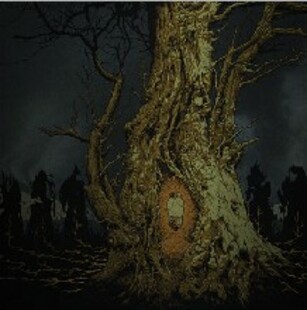 Well this is a release to whet the appetites of any self-respecting fan of drone, ooze and any form of formless brain-bending dark noise that one might care for on a grey Wednesday in November. From the appropriately doomy cartoon tree in hell artwork (also featuring the personnel all be-robed on the back) to the list of participants, it screams 'Classic'. Surely the collaborative presence of Boris and sunnO))), plus extras like Kim Thayil and Joe Preston means it has to devastate you?
But what actually lies within once you unfurl the curtains on this stage, and should we get so carried away with the expectations - shouldn't we just let it be whatever it is?
However, from the gently faded in drone at the start it's obvious this is SERIOUS and has high expectations for itself too. When Greg Anderson and Stephen O'Malley thunder in on first track 'Etna', over Wata and Takeshi's sky-high meanderings, it just feels as natural as breathing. But arguably, less forced than some of sunnO)))'s previous forays into brown sonic confusion, more relaxed. Drums clatter, a bit overtly maybe, but it all feels natural, like a jam. Then there's a gong. If this all sounds a bit clichéd, then maybe, but cliches work. It's actually quite loose, but that adds to the natural feeling, like a landslide maybe. Lovely. High guitar feedback tones finish off the song, and it IS a song, with its firmly defined structure.
One thing about this album, they are very distinct compositions. And it's not punishing by any means a lot of the time, it's almost ambient mood music - something to put on instead of Barry White for those intimate moments maybe? Track two 'NLT' is an example, which simply employs a bowed cymbal and upright bass to create a deep void of quiet doom. Lovely, where are the twiglets?
Arguably the centerpiece and certainly the most commercial thing sunnO))) have been involved in is third track 'The Sinking Belle'. Clean delay guitar creates a very God Speed atmosphere, and lovely piano tones and quiet drumming complete the picture. Jesse Sykes' vocal is pure understated beauty (Low, later Mercury Rev), and by the middle you forget to worry about why it isn't pummelling your head, and just wallow in it. This track pretty much sees the collaboration staking a claim in the post-whatever indie mainstream - er, it's not metal.
On 'Akuma No Kuma' Joe Preston (Thrones) takes up the craziness several notches with a processed vocal that's fantastic fun, and the drone has been put through something that will cave your head at the right volume, if that floats your boat. It sounds like Stephen Hawking over a tannoy in a nuclear power station and it's amazing, especially the worrying horn action half way through. Continuing the 'proper' sunnO))) dark/relentless side of things are 'Fried Eagle Mind' (tremelo everywhere, Randall Dunn credited, brilliantly, for Natural Trouble) and 'Blood Swamp' (with Soundgarden's mighty Thayil with a welcome yet pretty hard to pinpoint return, on guitar). However after what's gone before these seem almost standard issue.
I wasn't won over first time round (those damn expectations again), but second listen and it feels like the best thing you've ever heard. If this is pipe and slippers drone then bring me my slippers!