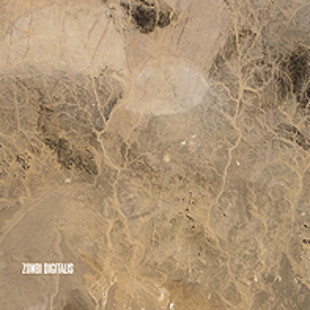 Zombi have re-animated the corpse of 70s progressive rock and set it free to roam the land! It craves not human brains but vintage moog synthesizers! Flee your homes in terror! Lock away your Tangerine Dream records! The undead will soon be upon us searching for relics of a bygone era. They will not rest! They will not stop! Not until they've conquered the earth using only the awesome power of progressive rock and vintage synthesizers!
Oh yes! You'd better believe it! This slab of wax is dripping with pure analogue synth goodness and there's more than enough in the way of envelope filters and arpeggiated melodies to keep even the most hardened of Moog freaks happy. If you enjoy Goblin, Ash Ra Temple or Tangerine Dream, then I somehow suspect Zombi will be to your tastes.
The A side of this 12" features two songs. 'Digitalis', a track lifted from their new full length 'Surface to Air' and an unreleased track 'Siberia'. The B side features an absolutely glorious 12 minute disco track entitled 'Sapphire'.
The material on the A side of this record is definitely a notable progression from their last album and it's an altogether more interesting affair than anything they've done in the past. The synth work has all the retro horror film charm we've come to expect but there's also far more use of sequenced melodies and arpeggiated material.
The drum and bass interplay on these tracks is particularly impressive, so much so that it really lifts these songs to a whole new level. The drum patterns always provide a strong rhythmic grounding but with plenty of technical flourishes to hold your interest. There's plenty of inventive off kilter hi-hat and ride work which is further complemented by some truly sumptuous fills. The bass locks tightly with the drums keeping a steady hypnotic groove. These are solid tracks, evoking the spirit of many a 70s horror film soundtrack.
The whole of side B of this disc is taken up by 'Sapphire' which is one hell of a disco track. It had me grinning from ear to ear for the duration. People wouldn't know what hit them if this got played in a club. Hell, this song deserves to be played in a club. I for one would be there, dancing like a bastard. It's all massive beats and layer upon layer of vintage synth melodies. You need serious help if this track doesn't make you smile.
As far as I know 'Digitalis' is limited to a run of 500 copies. So act swiftly if you want this. As it stands, this is a fine 12" and would serve as a great introduction to anyone who would like to give Zombi a try. It's worth it for the disco track alone. Go on, you know you want it.