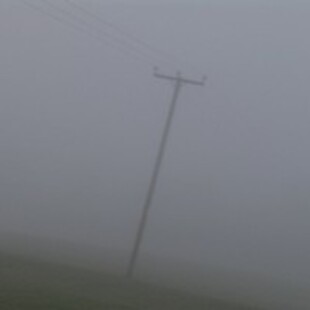 If you've found this site and have stuck about long enough to have started reading this then it's a safe bet that you already know who Jesu are. The main reason for this is that Justin Broadrick is a name that garners a lot of respect in extreme metal circles and with good reason too. Whether you're a fan of his pioneering work as one half of Ambient/Industrial Doom/Drone titans Godflesh (and if not, why not...?) or you're more interested in the vast amount of remixes and production he's been involved with over the last ten years or so, there's no denying the man is a phenomenal talent and has made a serious contribution to the music scene we all love.
Broadrick's latest project Jesu are already well established, this being the third release behind the original stop-gap ep 'Heartache' and last year's simply magnificent self titled full length album. The breathtakingly heavy, heartstoppingly beautiful melancholy that drove those two previous releases is again strongly in evidence here, but this is not to infer, however, that Broadrick is somehow resting on his laurels. Far from it, 'Silver' is yet another leap forward in his ongoing experimentation with heaviosity.
Eponymous opener 'Silver' is probably the closest feeling track to the other releases but Broadrick's voice continues to improve with a less monotone, much warmer delivery and whist the standard iceberg-slow, crushingingly heavy guitar and reverb drenched keyboards we all love so much are very much in evidence, the whole feel of the song is more positive. Second Track 'Star' opens with an almost punky, up-tempo drum beat and jangly guitars before moving into the heavier main section of the song which (brace yourselves) verges on feeling rather chipper compared to the general despondency so many bands this heavy seem to depend on these days, until the slower, more tempered second half progresses the song to a gentle and uplifting fade out ending. Next up we're treated to 'Wolves' which sees Broadrick's apparent love of continuing to evolve previous riffs and concepts rear its more than welcome head and sounds very much like a re-visit of one of the 'work-in-progress' sections from the 'Heartache' EP, minus the Godflesh-hangover aggression. EP closer 'Dead Eyes' begins with a more... err... experimental... (psych is totally the wrong word when used in reference to Jesu...) effects driven build up that floats through you like sunshine, lifting your mood yet further as Broadrick again refines what the word 'Triumphant' should mean when describing music before (as if the happy feel of the EP wasn't shocking enough) Broadrick finally succumbs and allows himself to be compelled by the power of the riff and slams down into a groove before slowly reverting to its start point for the end of the record.
Of course, as with everything Broadrick touches, the production is faultless. Devastatingly heavy (seriously, other bands spend their whole lives dreaming of being this heavy...) and yet crystal clear with every single instrument, noise and word delicately overlaid onto its counterparts without obscuring them. Another shock departure is noticed when you check the sleeve notes and realise that Jesu is no longer a one-man-band but now features other credited musicians as well as The Main Man Himself. One can only assume the beauty of the Welsh/English border countryside Broadrick lives in these days that he states is one of the primary influences on the feel and sound of Jesu is slowly but surely mellowing the gentleman's otherwise pathological need for control. Lest we forget it took him well over two years before he was certain that the self titled album was ready for general consumption.
So, in conclusion, once again Mr Broadrick has come up with the goods in fine form and produced another epic, soaringly beautiful masterpiece that is essential to anyone who means it when they say anything similar to "yeah i really love heavy, progressive music". Now do yourselves a favour and fork out the best seven quid you'll spend in ages and get your copy... seriously, your music collection will continue to hold you in contempt until you give it what it wants so that it may feel a chance of being complete.