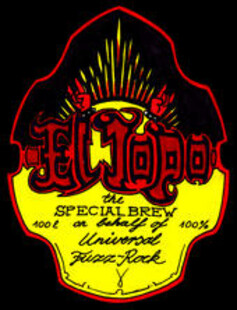 El Topo are a London based three piece comprising ex-members of Dirty Switches and Entronaut (although this means little or nothing realistically as I admit to being ignorant of both previous bands), playing determinedly lo-fi, doom tinged "fuzz rock" (their words).
Combining the rumbling, heavy-by-repetition approach of Om's 'Variations On A Theme' with the bassy grooves of Kyuss' seminal 'Blues For The Red Sun', this is unmistakably music to drink fine whiskey and smoke serious weed to. It's certainly easy enough to imagine the band themselves taking the stage a little worse the wear, shrowded in plumes of smoke that have little to do with any smoke machine present...
The demo itself contains four such overdriven groovefests, each of which explores a slightly different approach to the boys sound. Opener 'Let's Ride' immediately shows the Om influence in it's floating, low in the mix vocals and lollaping, lethargic riff before a notably more uptempo almost Fu Manchu like ending swaggers past. '1+1=3', meanwhile, romps through a no nonsense, Kyuss tinged groove. Track 3 ('Bomb Head') begins with what appears to be the theme tune from 'My Name Is Earl' before resolving itself into another mantra-like doom riff before throwing up a pleasantly unexpected (but mercifully not over-egged) guitar hero break shortly before a thumpingly heavy conclusion. Finally, demo closer 'Leather Freak' pelts full tilt into an almost thrashy stomp along, briefly shows an almost 'Bleach' era Nirvana streak, before dropping back into a wonderfully sludged up version of it's opening riff.
Production wise, the guitar and bass do what's expected of them with a bottom end heavy enough to damage foundations with, suiting the material well (although this can, at times, come close to obscuring the John Garcia-caned-off-his-tits vocal delivery in the obviously intentional, uber lo-fi fuzz).The drums, however, are suprisingly crisp and fill out the sound nicely.
All in all, an interesting and well crafted take on the current state of the Stoner/Desert Rock genre. Not necessarily the most original in and of itself but arguably more so than many of the other young, proficient if a little uninspiring bands attempting likewise at the moment.