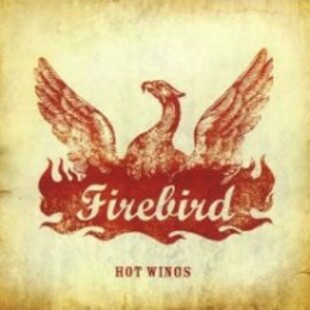 Here we have former Carcass man Bill Steer with his "retro-rock" outfit's fourth album. I'm a big fan of Firebird so, this has been an eagerly anticipated release for me. Well, that is at least since I found out it was coming out. Which was only about a month ago. Firebird seem to be one of those bands, who are also on one of those labels, who don't appear to care too much about keeping up to date information out there for people to pick up.
Firebird have had a few changes in personnel over the years but Bill Steer's voice and the distinct guitar tone used always make the tunes unmistakably "Firebird". Their first two albums consisted of smooth, fairly fuzzed up jamming, 70s style rock. Very nice indeed. With the release of No.3 in 2004 they took a more structured approach with an album of less meandering, shorter bursts. Hot Wings continues in much the same fashion but, reintroduces a little of the heavier breakout riffing and solos of their earlier work. The production is crisp and clean with a little more grunt than the previous album and while it may be a little flat the separation is good and it is easy to follow everything.
Similar to No.3, Hot Wings can suffer a little from repetitive riffing. The tunes are good and the riffs are of the kind that will eventually burrow permanently into your brain, but it seems to lack the lead guitar work overlapping the main riffs that worked so well on earlier albums. And whilst there are some slower songs on Hot Wings, it never seems as laid back as their previous work.
This is nevertheless an album replete with rolling riffs, upbeat vibes and some ideal summer/driving music. Particularly opener Carousel and standout track Flying Blind with it's insistent forward inertia. There's some good use of harmonica on tracks like Misty Morning and Play The fool, adding an extra dimension to the straight up rock style and giving a slight blues feel to things.
This is an album to persevere with. Don't expect to get it straight away but if you already have/like any Firebird albums you'll like this too. If you haven't heard them before I'd suggest starting at the beginning and working through to this.