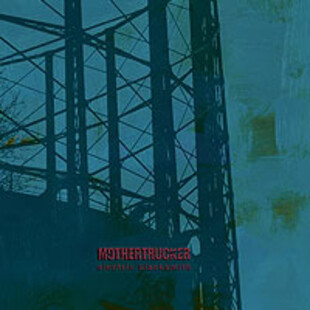 Mothertrucker took a lot by surprise with their debut release, 'The Last Ride of Dr. Sanchez'. Seemingly from out of nowhere the Birmingham boys spat forth the demo of last year. With its instrumental alchemy of stoner rock, doom and post-rock mixed to perfection, Mothertrucker pricked many a conscious.
One year on and their debut album (although it contains as many tracks as the demo, this time they have label backing) is upon us. 'Electric Blacksmith' has a lot to live up to - and a couple of my fears to play down. Chiefly that it won't be able to achieve that visceral thrill the demo created because this time we're not only prepared for what's to come, but also expectant, but also because whenever the words 'post' and 'rock' are placed together in conjunction with a band, there's always a possibility that said band may disappear up their own arse.
'Horn of Edwards' kicks things off and the rough edges to the sound immediately reassure that the grimy edge has not been lost. Sophomore track 'The Russian' goes even further to dispelling my worries with a doom riff intro and a menacingly slow pace. 'The Taking of Planet 55' is another cracker - bringing to mind Karma to Burn as Mothertrucker tend to do from time to time, and they're all the better for it. The spacey guitars and guitar wanking eventually give under the weight and the song ends heavy and strong - its inevitability after the build up not spoiling the effect.
Fourth track 'Dark Destroyer' is the true high point - showing not only why they are so highly rated, but also how far they have come. It is a grand doom affair - morose in tone and a real head-nodder - it shows again Mothertrucker to be wise beyond their years. 'Kings of Kabbaddi' finishes things off and finally gives in to the meandering pattern building post-rock habit of stretching out a song (over ten minutes plus) but as it's the album closer, it doesn't really matter, and all fears have long since disappeared.
So then, Mothertrucker second time round: more arty? More doom more like. Sure, they've advanced technically. Through the comfort of being together for longer, more time to write, better recording and more experienced musicianship, they have grown. They have learnt from their peers - their Brummy brethren Una Corda broadening their horizons, while their gig partners Grifter reminding them to keep a tune.
The result is an excellent album. 'The Last Ride of Dr. Sanchez' still provides the more immediate thrill as the riffs blow your hair back on first listen (I was able to write my review of that on the day it arrived), but 'Electric Blacksmith' is the real deal - give it a little time, and it is ultimately the more rewarding experience.