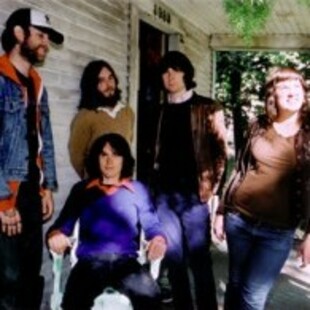 Arriving at 7.30ish, the place was dead. By the time Blood Meridian were two songs into their set, the crowd had grown to a respectable level and continued to increase steadily for the next hour or so. Blood Meridian were fairly unimpressive to be honest; probably the combined effects of fatigue and not enough beer yet on my part, but they sounded best when sat down.
Pink Mountaintops is, as far as I can tell, the side project of Black Mountain singer/guitarist Stephen McBean. Don't think he should give up the day job, as the saying goes. They're more involving than Blood Meridian for sure, but lack a certain something that leaves your mind wandering, the one obvious issue for me being the guy's tendency to sing too much. There was no space for the music to breath and as a result nothing was too memorable.
A fairly unimpressive warm up is more than made up for when Black Mountain hit the stage. Opening with "Don't Run Our Hearts Around", arguably the biggest riff on the self-titled album, makes perfect sense. It immediately banishes the cobwebs and it's obvious Black Mountain are in a different class. Disappointingly, they choose to air more less familiar/improvised material than album tracks this evening, but when they do break out great tracks like "No Hits" the way they jam them to death suggests a band who are comfortable playing in this free-form manner. The band are a triumph tonight and the highlight is a freak-out encore with guitar, bass and multiple drummers/percussionists. Awesome stuff, worth the price of the ticket alone.