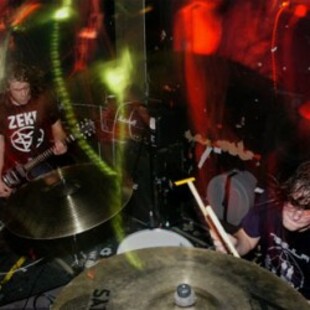 So, this gig was a bit special for me, for reasons other than the bands playing, as this was the first time at the grand old age of 28 that I've ever been to a gig on my own! I get to the Monkey and feel a bit lost, but fortunately the Suns boys are kind enough to look after me until the bands start, and we have a smoke and a laugh until the first set opens up the night's festivities.
I've never seen local boys Bomb The Sun before, but I've heard lots of good news and I can see why. As they limber up, it's all there; the bottom-end rumble, the blissed-out grooves, the superb musicianship and sun-drenched vibes are all in full effect. Yep, that's right, they're Kyuss through and through. Try to imagine all your favourite bits from all your favourite Kyuss songs and condense them into a 25-minute down-tempo jammathon and there you have the best description of Bomb The Sun available. This is, however, no bad thing by any stretch of the imagination. The singer definitely isn't on a par with John Garcia, but his guitar playing is beautiful and the crowd are enraptured from the first chord to the last solo as these three lads turn Swansea into the southern Californian desert. Not necessarily what you could call inspired, but great stuff nonetheless!
Another quick smoke and then it's Oxford-based Sextodecimo up next. Another new experience, and dear god, what a wonderfully pleasant surprise! Tonight was always gonna be about balls-out groove, so imagine my surprise when Sextodecimo sound like all the slowest, nastiest bits of Charger and Iron Monkey! Sludged-out doom pours forth from the speakers (or at least would do if one of the guitarists could get his amp to work), and with a howling screamer of a frontman in place, they proceed to show Swansea what the word 'METAL' really means as shuffling-zombie-corpse slow riffs and massive amounts of gain batter the senses into submission. Now these are the things that make my days that little bit happier, so as the first song gets into its stride and the guitarist convinces his rig to behave itself, they're already leaving very good impressions on me. The rest of Swansea, however, appear to disagree. One by one, the audience dwindles away downstairs to the bar or out to the balcony, and the room is virtually empty by the time the set draws to a feedback-steeped climax. I'm actually almost embarrassed to cheer them once silence finally descends, in case I'm the only person who does so. Shame on you Swansea, you've been complaining no decent heavy bands come out here for ever and when they do you run away like pussies. I buy a CD (from the WD lads, I think) and thank the guitarist when I bump into him on the stairs, but it's quite clear that I'm possibly the first person to do so all night.
Next are the Suns Of Thunder. There doesn't seem to be much point in me going over old ground again, as you can just read the Launch Show review to hear me rant about how much I love these boys but, suffice to say, I'm astounded again at how much better these boys keep getting, and the crowd are singing and dancing within the first few bars. Shorter and minus the standard '...Time Pt. II' jam at the end due to time restraints, the set is no less belting than usual and a casual sense of accomplishment emanates from Greg and Adam as they and their bandmates give us what we want, including some new songs that are slowly taking shape and getting under the skin. One particular highlight is that 'Tenesee Smile' gets its first airing in what feels like years, with a bit of a rejig to liven it up and make it fit better with the rest of the material. Lovely.
Tonight, however, is (and was always going to be) all about Winnebago Deal. These two Oxford boys have certainly done well for themselves, both as two thirds of Mondo Generator and with a legion of devoted fans in their own right - there's simply no denying the sheer levels of energy they generate. I remember the first time I saw WD a few years ago: it was my birthday and a friend who lives in London and had seen them before was up to visit and they totally blew me away. I also remember waiting at the end of the set for the bassist to leave the stage before realising they didn't have one. Tonight, they are no less astonishing, and the crowd all feel the RAWK flowing out into the room and respond appropriately. Songs from debut cd 'Plato e Plomo' in particular are met with sing-alongs and pumping fists, although again I'm slightly disappointed that the room seems notably emptier than when the Suns were on. Swansea appears to have a very insular opinion of bands as even BTS appeared to have a better crowd than the headliners, who were far superior without even breaking a sweat (although, as ever, the WD boys certainly sweated!). I know it's late and a school night, but how often do you get to see a band like this in a venue this tiny? For true, I despair...
Anyway, the Winnebago Deal lads wrap it up and, despite having just rocked Monkey's very foundations, the crowd all call for more, but everyone soon realises when the house lights come up that the whole reason The Deal are as good as they are is because they don't hold any back for the encore! I toddle home happy with the bands but disappointed with the crowd and slightly panicked that, as I'm looking to book bands more like Sextodecimo than Bomb The Sun, I could be in for a spot of bother here....