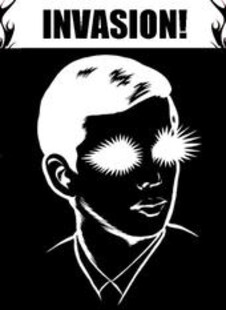 Invasion, who until recently went by the name Dark/Light, hail from London, although have Polish roots. This demo is a quick (just over five minutes total) display of their talents with just the two tracks on offer. The sound they produce is, on the whole, a nice sounding fast paced stoner riff groove, combined with the vocal eccentricities of a female vocalist.
While there seems, if I were to write no more than the brief description given already, nothing particularly different or wrong with Invasion's prospects, the truth is that this has to be heard to truly get what's going on. Frontwoman Dominka's vocals are, to say the least, bizarre, ensuring the band's overall musical persona is as unique as any from the genre - but not necessarily for the desired reasons.
First track 'Red Dawn' perfectly proves the point. Despite a solid guitar rock song going on in the background, you barely even notice it due to the psycho-babble, rapping, talking, whooping, rhyming lyrics over the top. It sounds like a mix of Kerstin Haigh from Senser, the vocalist from crap-indie-cultsters Bis and, according to ninehertz indie expert Amy, Karen O from the Yeah Yeah Yeahs. When, in the track's final throes, the lyrical wisdom offered forth appears to be 'Don't become pigeon' (admittedly potentially misheard) then you don't know whether to laugh or cry.
On to second track, 'The Uplink is Down', and having settled myself down, it's disappointing to hear things carrying on in a similar fashion, with shrieks and whoops early on. But you can tell even then that there's a brighter outlook for the track - the driving riff sounding deliciously raw (the production is good throughout), and after 40 seconds, the vocals calm down enough to be considered enjoyable - they can be, you now realise, strong, distinctive and impressive - what I would call PJ Harvey-esque if I knew Amy wouldn't scowl at me for being an indie novice, but probably more accurately like Dirty Blood's Danni. The song is heavy and full throttle, and it's nearly enough to forget what has gone before. More of the same from the likes of the second song, and restricting the loopiness of the first, and Invasion would be a fantastic proposition.