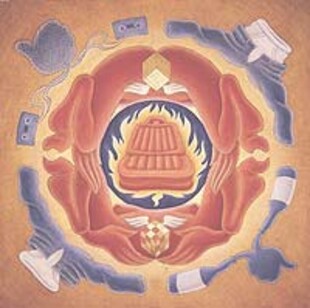 Most ninehertz readers are probably pretty familiar with Five Horse Johnson's brand of Southern tinged blues rock, following a couple of UK headline tours and last year's visit to these shores with Clutch. I've always digged their sound and on previous albums, songs like 'Mississippi King', 'Cry Rain' and 'Cherry Red' have had me thinking that Five Horse Johnson could just become my new favourite band. Unfortunately, previous efforts have failed to keep my attention for the duration and there have been too many tracks which, to me, are just making up the numbers.
Step up album number six, 'The Mystery Spot'.
The title track starts things off and it's not the typical storming opener of their previous albums but a more bluesy, subdued number with plenty of harmonica from singer Eric Oblander. Not the perfect start, but the first thing I notice is the drumming, and how well Clutch sticksman J.P. Gaster's laid back style fits in so well with the whole FHJ vibe. Next is a track (like many on this album) which may sound familiar to anyone who saw FHJ on the Clutch tour and it's the first standout track. 'Ten Cent Dynamite' starts with another cool bluesy off beat riff before kicking into a simple but effective chugging verse and catchy as hell chorus. The track then ends with a drum solo as if the rest of the band have failed to tell J.P. that the song has actually finished.
The pace is then picked up for 'Call Me Down', an altogether rockier number which leads us into my favourite song on the album, '... Of Ditch Diggers and Drowning Men'. This is the closest FHJ come to a ballad. It opens with the almost trademark slide acoustic guitar and has an awesome sing-a-long chorus. I challenge you not to nod your head... brilliant!
And that's not it. There's more to come. 'Gin Clear', '3 Hearts' and 'I Can't Shake It' are all worthy of a mention, but there really is not a bad song on this album.
Another thing to note about this album is that the production has been tightened up by bringing in Roadsaw/Antler frontman, Craig Riggs, in behind the desk. This, along with the guest collaborators on the album, help to make this a beefier, more rounded proposition.
If Five Horse Johnson have never been your thing, then this album probably won't do much to change your mind. But if you liked them before, you'll love this one. The formula's the same. They're just getting better at it.