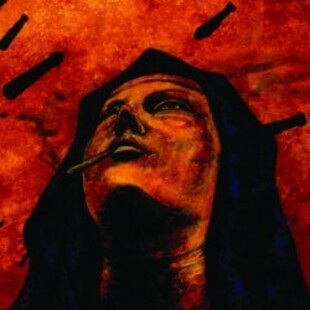 'No More Forever' is a collection of recordings documenting the career of the now defunct band Sunnshine. The band formed in 1995 in Richmond, USA and parted ways in 2002 after a handful of releases and relentless touring. This disc collects everything the band released including some early demo recordings.
I'll start with the oldest material first, which takes us straight to the last five tracks of the album. These are demo recordings dating all the way back to 1993 that deliver some pleasingly dirty, driving rock with plenty of strong melodies and catchy hooks. Sunnshines's sound is very much rooted in the 90s, drawing quite heavily from acts like Soundgarden, Life of Agony, Alice in Chains and Tool. It's unashamedly straight up rock and all the more enjoyable for it. The bluesy metal inspired riffing meshes nicely with Joe Deleon's soulful vocals which bring an individual edge to their music. Deleon delivers some melodic clean vocals, sounding like a cross between Maynard James Keenan, Keith Caputo and John Garcia. The overall sound of these early demo recordings is good. Everything is clear and balanced but with a slightly rough edge that fits the material perfectly.
The more recent material, which comprises the first 10 tracks of this retrospective, has a more streamlined and accessible sound, further enhanced by a slick production job courtesy of Joe Barresi. There's a definite shift in style when comparing these tracks to those of their early demo. The overall impression is one of a band attempting to expand their palette in order to appeal to a wider audience. The result is a hybrid sound that lies somewhere between the Sabbath influenced rock riffage of their earlier songs and 90s Grunge. Deleon's vocals continue to be a standout component of Sunnshine's sound. His lyrics and vocal delivery have an emotional edge that remind me a little of Life of Agony circa 'Ugly'. Sunnshine manage this 'updated' sound quite successfully and deliver some infectious songs.
It's a well executed effort but I can't help but feel Sunnshine should have stuck to there guns. The later day material is solid enough and could have certainly had commercial appeal, but it's difficult to get through any of these recordings without name checking any number of other influential bands. Unfortunately, Sunnshine simply don't do enough to set themselves apart from the big names in the scene at the time. I'll admit, there's a bit more on offer here in terms of stylistic variation, but I much prefer the straight up, heads down rock approach of their debut recordings.
In spite of my reservations about their more recent output, it must to be said, there are some fine songs to be found on 'No More Forever', regardless of which period the tracks are from. Sure, it's not exactly ground breaking stuff but if you've got a soft spot for 90s grunge and stoner rock you may want to give this a look.