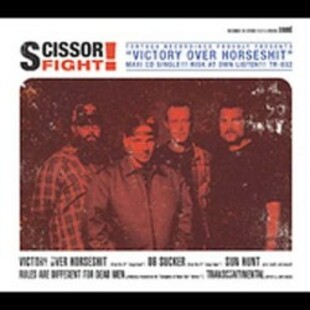 Everyone's favourite drunken redneck crazies are back with a stopgap EP before the release of the next full-length album. This release showcases 2 songs from the new album, 'Victory Over Horseshit' and '86 Sucker', 2 previously unreleased tracks, (presumably from the sessions for the new album), 'Sun Hunt' and 'Transcontinental', and the previously released 'Rules Are Different For Dead Men' culled from the limited edition Champions Of Sound Tour 7'. For those who haven't heard them I've always seen them as a more aggressive, more overtly 'Metal', good time, redneck, Clutch. So, on with the show.
'Victory Over Horseshit' treads familiar Scissorfight territory kicking off with a nice descending riff on the guitar and bass kicking into an up-tempo chugging groove with Ironlung in fine, ranting, form. A couple of short melody lines on the guitar and a shout along chorus break up proceedings before a nice stomp along middle eight that leads into an extended verse/outro. So far so good. '86 Sucker' is next up and, for me, is probably the weakest track on the disc, it has a bit too much of a cheesy, almost boogie-woogie vibe to it, which really does nothing for me. Although the addition of a harmonica line works well but doesn't do enough to elevate this song above mediocre. 'Sun Hunt' thankfully raises the quality again with a nice drum intro and a guitar riff that initially struck me as a bit lightweight but by the end of the first bar it drops into a nice meaty chug. The chorus is all drum fills and a slowly building riff with a decent vocal line over it. Ironlung seems to be showcasing a much more melodic voice than we've previously heard from him, but it's utilised alongside the more aggressive vocal style that we're used to from him, so it's not too radical a departure from what has gone before. 'Rules Are Different For Dead Men' is next up and is pure traditional Scissorfight, full of bravado and choppy riffing and the Ironlung patented 'repeat the song title a bunch of times' chorus. 'Transcontinental' closes up the disc and switches back to the mix of melody and menace that the earlier tracks have shown, leading me to believe that both this and 'Sun Hunt' come from the sessions for the new album.
All in all this is a damn fine release, it takes the familiar elements of Scissorfight and mixes in a few new things that keep things fresh. If this is an indication of the quality of the new album (Jaggernaut - out later this year) then we're in for a treat. Just as long as the boogie-woogie is confined to '86 Sucker' and hasn't infected the rest of the tunes.
Tracklisting:
1 - Victory Over Horseshit
2 - 86 Sucker
3 - Sun Hunt
4 - Rules Are Different For Dead Men
5 - Transcontinental