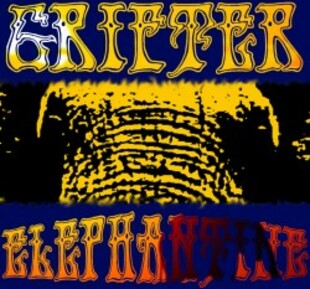 After travelling nearly the length of the country to be there, we could have forgiven Grifter if their set opening the 'ninehertz live' gig in Sheffield last October had suffered due to fatigue. Instead, those inside the venue that night witnessed a truly stunning stoner rock performance that will live long in the memory, and sent many scurrying towards the merchandise table for a copy of their demo, 'Elephantine'.
The Plymouth-based band plough a Clutch and Scissorfight style furrow - a vein attempted at by many in Europe, but hardly ever carried off. What sets Grifter apart in this respect is not only their confidence - in their impressively beefed up sound and in their non-American-ness (a stigma for other bands) - but also their musicianship - the groove/riff relationship is never attenuated at any point of this three-tracker.
There really isn't a lesser moment, or a weak link at any point on 'Elephantine'. Whether it's the bass on the title-track opener, the guitar on 'Man Bite Dog' or the vocals throughout, there's fantastic individual performances to marvel at, that gel together to create a gorgeous demo - and this is without even mentioning the best song on offer. 'Brother Sister' is as good a stoner rock song of its type as you could wish for, with hilarious incestuous lyrics to boot. As good an appetiser as the 'Victory Over Horseshit' EP is for Scissorfight's forthcoming album, they'd bite your hand off if you offered them this track for inclusion as their own.
British, big-riffed, groove-laden, whiskey-soaked music played by three brilliant, friendly people. With rumours of an album of their own possibly to emerge in 2006, it could be a big year for Grifter. It sure deserves to be.