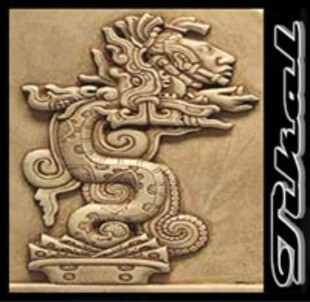 Italian band Tikal state their influences as being Kyuss, Tool, King Crimson, Mars Volta and Area - a fine, fairly varied mix of alternative rock and metal that cannot be argued with. The problem, however, isn't with whom they are influenced by, more by how much - in particular the Tool factor. Tikal want to be Tool so bad - from the brooding rhythms and slow build ups to the vocalist who sounds very, very like Maynard James Keenan, to the exact-fucking-guitar-sound. For the first two tracks, you wouldn't have to stretch your imagination too much to believe you were listening to 'Aenima' off cuts left behind in the practice room before heading to the studio. Not that they're bad songs - they actually sound very good, and minus a couple of weak points, they ably mimic their heroes; second track 'Non Graphic Tautology' in particular sounding strong and memorable.
The problem is, and I'm sure it's clear already, what is the point? Sure, Tool's album output is sloth-like to say the least, but they are masters in a field of one, and with no variation on the theme it's going to take a lot of impatience from fans of the Americans to truly buy into this. Things do improve in terms of individuality over the second half of the demo - third track 'Oblium Intro Theme' belying it's named status as mere warm up for the proceeding track by offering the only distinct divergence from the main in it's dreamy, spaced world - reminiscent of a more sedate and less mantric version of Queens of the Stone Age's colossal 'Spiders and Vinegaroons'. 'Oblium' itself reverts to type to an extent, but manages to actually merit the mentioning of the other influences listed above, giving the song a modicum of self purpose. There's even a change in vocal styling at last - the choruses sang in an almost Among the Living era Anthrax Joey Belladonna manner - the variation benefiting the song.
Despite all the negativity written above, this is still a more than decent demo that may be enjoyed by Tool fans - Tikal are obviously a talented group, and they could be influenced by a thousand worse bands. However, to maintain any relevance at all, they'll need to build on their own identity in the future if they are to progress in any sense.