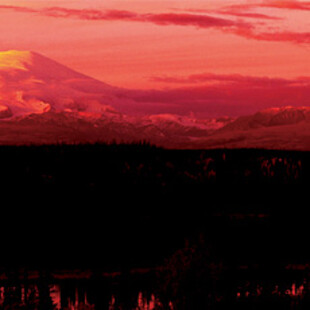 This strictly limited edition (4000 copies), red 12" split slipped through my door containing songs by two amazingly atmospheric bands around at the moment. So I was pretty excited to listen to this record.
The first band, Pelican, are from the USA. They have been making a name for themselves after their 'The Fire In Our Throats Will Beckon the Thaw' album received high critical acclaim. So what we have in this 12" is an extended version of album track 'Ran Amber' - one of my favourite moments on the album. In its extended form it's beautifully built upon, in the way 'March to the Sea' was prior to the album's release. The track picks you up with riffs building, and an exquisite use of dynamics. Also we get a Justin Poltkin remix of the track 'Angel Tears', which gets a rework and the sound is modelled not too far from the original so that you can recognise what of Pelican is still left within this mix.
So to the next side of the record, Mono from Japan. Well, other than one track on a cover mount I know very little about Mono. They are a lot less riff based than Pelican and more atmospheric. Their song 'Yearning' has an almost Slint/Godspeed... building theme and some beautiful trems colouring the walls of noise. The 15 odd minute long track glides up and down with colourful dynamic interplay. In fact, as much as I love Pelican, this time I'd say Mono take it and have left me wanting to find out more about their band.
But overall, this is a beautiful record, down to the amazing artwork of a mountain landscape at sunset (very much in feeling with the music contained within) and the red vinyl is deep and dark in colour in the undertow of the record itself. The only thing I can fault this release on is the limited nature of it.