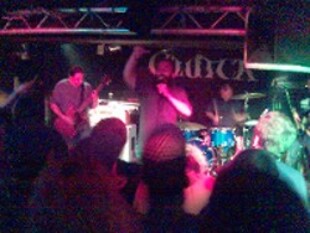 I don't usually making a habit crossing borders to go to gigs, particularly on a wet and windy Wednesday night. However, when the band is Clutch and they've brought in their old buddies Taint in support I'll make an exception. This is my first visit to the Cardiff Barfly but having been to the Camden Barfly I wasn't expecting a palace. A dirty bar venue seemed to me the perfect place to see Clutch after seeing them at the slightly larger Mean Fiddler and Bristol Bierkeller earlier in the year.
Taint hit the stage at 8:00 on the dot to a half full venue, the doors having only been open for 15 minutes. This doesn't stop them from blasting through a frenetic opener making a noise that most three-pieces could only dream of. They then rattle through more familiar territory for me in 'Poison Pen Attack', 'I'm Going To Kill Henry Ford' and 'Drunken Marksman' before closing with 'The Idol / The Memory', all of which will presumably will feature on their upcoming full length debut, 'The Ruin of Novà Roma', which promises to be a stormer. The only disappointment is that at five songs their set isn't long enough and the almost 'home-town' crowd don't seem to appreciate what they've got in Taint.
When I turn around after Taint's set I realise that the venue has filled up nicely and the crowd are waiting patiently for Maryland's finest. As the band walk out, they are greeted by many a cheer and raised glass. They start with the opening brace of tracks from their latest album, 'Robot Hive / Exodus', before having to stop seconds into 'The Mob Goes Wild' when the bass head blows. Taint return an earlier favour by lending some of their gear. Fallon is on good form, chatting with the crowd. At the second time of asking, the mob goes wild.
After 'A Shogun Named Marcus', the band draw heavily on tracks from their last two albums, only dipping into their back catalogue for 'Immortal' from 'Pure Rock Fury' and rarity 'Guild Of Mute Assassins'.
It's not often that bands play for as long as Clutch, but after an hour or so you can sense that the crowd is flagging a little, only to be brought back to life with the 'Big News' combo. 'Who's Been Talking' seems a strange choice for a set closer and adds to the anticipation for a more lively encore, but as the lights come up it becomes clear that it's not going to happen.
It's not the best I've ever seen them, but at the end of the day, there is no such thing as a bad Clutch gig or even an average one.
<u>Set Lists</u>
Clutch: 'The Incomparable Mr Flannery', 'Burning Beard', 'The Mob Goes Wild', 'A Shogun Named Marcus', 'Cypress Grove', 'Gullah', 'Promoter', '10001110101', 'Army Of Bono', 'Immortal', 'Land Of Pleasant Living', 'Guild Of Mute Assassins', 'Pulaski Skyway', 'Never Be Moved', 'Gravel Road', 'Big News I', 'Big News II', 'Who's Been Talking?'.
Taint: Unknown, 'Poison Pen Attack', 'I'm Going To Kill Henry Ford', 'Drunken Marksman', 'The Idol / The Memory'.