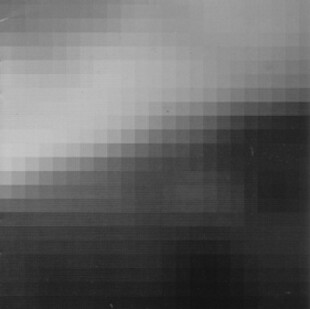 Dry Run have got a reputation to uphold, not only giving us the excellent Pale Horse, ex-Godflesh man Justin Broadrick's new project Jesu and soon to be released on an unsuspecting public, Red Right Hand, they have snapped up what some people are calling the best band in the country at the moment in terms of sheer legwork and guts as well as having some of the most interesting and strikingly delivered songs the UK underground has heard in a long while.
The band I'm talking about of course is Leeds' Red Stars Parade, who with this, their first full album release 'Disko' have been allowed the room they so obviously needed to explore their sprawling, gargantuan sound. Opener 'Merculine' comes in without a warning, the production showing up in the first few seconds as being frankly, massive, and suits Red Stars' penchant for the grandiose. The drums sound very clear and this helps the pinpoint riffs hit home with no problems. Vocalist Matt's vocals shine through with his urgent scream just as high in the mix as the guitar and bass, making them sound very equal, which is the point with this band at times, the very organic structure of their songs, that builds and builds on steady structures without going out control would be shot to pieces if this wasn't the case.
Second track 'Ruin Vegas' is more urgent, but still retains that special Red Stars Parade sense of something about to happen, but not quite coming, which is where the charm in the band comes from. Followed by a momentary instrumental 'Dividing...' the riffs come back with a vengeance in next cut 'The Icon' which has elements from the new wave of Isis-esque bands as well as a serious nod to hardcore, chugging parts intersperse a stopping and starting riff that is as beautiful as it is diverse. Matt's vocals here are integral, the repetition of religious-zealot like lines such as "You'll never see it again!" add a definite menacing element to an already uneasy listen.
A brief respite once more in the form of the Mogwai-like 'Black Lung', another quiet instrumental before the amazing close to ten-minute leveler that is 'Worlds Greatest Tiger Trainer' an odd name, but again, Red Stars are here to mess with your head, starting off with an epic riff that could challenge the most nitpicking post rock fan into submission, the band stop to let Matt show off his actual singing voice, his high-pitched wail being replaced by a desperate sounding plea, the lines "it's a miracle!" having particular resonance.
Next up we have the live favourite 'El Retardo' with its crushing weight bearing down on you from the offset, the drums create an underpinning for the Mastodon-esque riff, its twists and turns only helped along by Matts vocals, turning from urgent screams to lamenting crooning in an instant. Drifting into an Isis-style shift at one point before the meaty opening riff kicks in again at a fervent crescendo is an inspired touch, and this is another highlight on an album of contenders.
Another instrumental break with melodic and swathing guitar work passes by before the cracking 'Zemanova' (re-recorded from the demo) comes in with its recognisable guitar intro, before the stop and start pattern it takes comes in, with a meatier and more urgent-sounding pace, it improves on what was already a great song.
Another instrumental, the curiously named '6hz' (fancy adding three more to this lads? hint hint) breaks up the flow effectively, with its drones and feedback waves before the climatic and paced closer 'Kids Of Disko' which has Matt spitting out lines that sound like a lecture, coupled with riffs to challenge the most intense Hydrahead or Relapse artists. Lines like "theres no time if you feel this way" have a vaguely cryptic feel, which you feel is generally the idea with this band, never giving much away in terms of what they are going to do next or direct themes, its left to you to decide what the songs might mean to you.
With 'Disko' Red Stars Parade have proved they are more than worthy of a position on the Dry Run imprint, and why they have such a good reputation in this country. Investigate into this if you are sick of the current swathe of haircuts and beatdowns, and want something which goes against the grain without giving one solitary fuck.