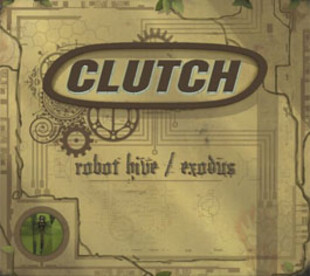 Another year, another Clutch album. It's astonishing that they find the time, considering how much they spend touring the globe. What's even more phenomenal is that time and time again they deliver the goods, releasing album after album of increasing brilliance. 'Robot Hive/Exodus' is no exception - in fact, it's a masterpiece.
Beginning with the superb 'The Incomparable Mr. Flannery', all funk riffs and guitar magic, the tone is set right away. 'Mice and Gods' is absolute classic Clutch - the tight musical flow, the lyrical intrigue and most of all the gigantic sing-along chorus - it's similar in type to 'The Mob Goes Wild' from last year's 'Blast Tyrant' opus, but perfected, and without sticking out as much.
The introduction of a fifth member to the band - Mike Schauer on keyboards and organs - appears only to have enhanced Clutch's musical depth. His influence on 'Robot Hive/Exodus' is subtle at first, but increases as the album goes on, culminating in the chilled, smooth beauty of '10,000 Witnesses'. Led by Schauer alongside the rhythm section, it allows guitarist Tim Sult to cut in and out of the track inventively when he feels like it.
Before that we're treated to Fallon's typical lyrical wizardry on 'Circus Maximus', the gorgeous 'Never Be Moved' and the plain stunning '10001110101'. We have been blessed. Finishing with entertaining country-style songs, showing they can make anything they try their hand at sound cool and fun, and without a bad track in sight, 'Robot Hive/Exodus' truly is a special album that will be played for years to come.
For the best band in the world over the last several years, both live and on record, to release their best album to date, you've got to feel lucky you're around to hear it. And you just know they're not finished yet. Genius.