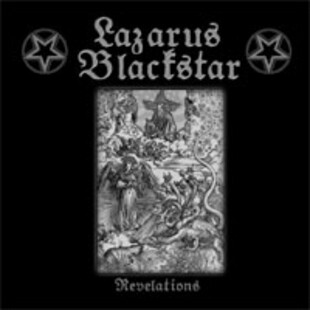 Formed from the ashes of cult British doom band Khang, Lazarus Blackstar also feature the horrendous vocals of Paul Catten (Murder One/Co-Exist) as well as Bri Doom from seminal crust outfit Doom.
Speaking of doom this band are composed entirely of despair. Taking influence from bands such as St Vitus, Grief, WarHorse and Electric Wizard to name a few, Lazarus deliver on the underground hype they have been creating with this amazing debut.
With every track clocking in at well over five minutes each track serves to submerge you deeper and deeper into the black tar of pessimistic riffage. As your lungs are filled with thick sludge Mr Catten sends you under by screaming uncomfortably down your ear, rupturing your eardrum and opening the floodgate to your brain. This would be a terrible experience indeed unless you fucking love massive doom with underlying grooves!
'Defaced Photograph' is a seven minute monster that recalls early Iron Monkey whilst 'Revelation II: The Aftermath' is like being ingested in the pit of Sarlacc before the up-tempo groove regurgitates your half-digested corpse onto the hot sand. Lazarus Blackstar bring it all to a suitable darkened climax with a cover of St Vitus' 'I Bleed Black'. This band are set to be doom legends.