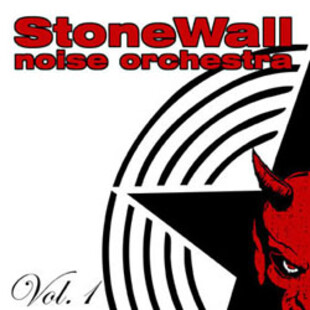 StoneWall noise orchestra are an exciting proposition to any self-respecting stoner rock fan. Formed from the ashes of Swede greats Demon Cleaner and Greenleaf, when we here at ninehertz first heard of this new formation we asked for an interview immediately and eagerly awaited this, their debut album.
'Vol. 1' kicks off with the sound of aeroplanes followed by what is most definitely a doom riff, but soon heads into more familiar territory. The most familiar of territories, as it happens. While it is widely accepted that Black Sabbath are a blueprint for metal as a whole, it is practically a given that they are an inspiration for stoner rock, and furthermore, that many a band from the genre feel compelled to write a riff similar to that in 'Children of the Grave'. And so it is here. Not that it matters, mind, it's a fantastic start to what turns out to be a fantastic album.
'As My Sun Turns Black' contains an excellent chorus, lyrically and musically, and is reminiscent of Monster Magnet - not the trippy early era nor the overblown pomp of recent years - more like 'Dopes to Infinity' or the subtler offerings from 'Powertrip'. The following 'Freedom's Prize' is even better, the band by now proving they have a great skill with creating big, sing-along choruses - and while there's a hint of Fu Manchu to it, it would be churlish of me to take credit away from anyone producing such good music. It continues as well, through 'Evolution?', 'Hill Street Madman' and others, with variation provided effectively by the acoustic 'Going to Clarksdale', which sounds like cult Seattle group Mother Love Bone, at least for the first couple of minutes.
This album is not the most original, that has to be said. But with only one or two tracks not really doing anything, while the rest are fantastically crafted, it hardly feels like an issue. 'Vol. 1' is as classy and as accomplished a stoner rock debut you could wish for in 2005.