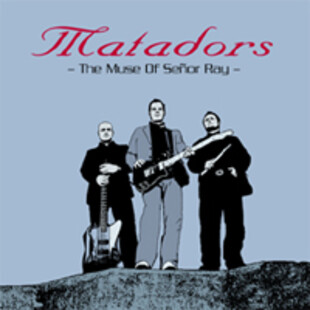 Remember the spate of Scandinavian fuzz rock bands that were heard in the late 90's? The Molten Universe label (in my opinion) had the cream of the crop and among them were RIDGE. Having split up a couple of years ago, Andreas Bergstrom and Jonas Jonsson and formed a new three-piece known as the MATADORS.
There is still some of that trademark fuzz sound with a whole lot of groove but the band have developed their love of the Mexican/Spanish theme- castonettes, handclaps 'n all and opted for a 'punky-garage' production which gives the album a unique feel. Based on their background and my expectations, this album is different but in a pleasent way. Having listened to this album twenty times now, it's really grown on me. With the ever increasing stoner/punk/rock 'n' roll sound from bands like The Hives, Machinegun, Glucifer, Spoiler etc, MATADORS have found their own sound and really stand out from their contemporaries.
Opening track 'Like a Matador pt2' has a great drum and bass intro with handclaps and energetic guitar, then it crashes into tom rhythms and some galloping bass. 'I Just Tell You What You Wanna Hear' begins like an Offspring tune but Noodles never played such crunching guitars! 'Oh Well' has some punk chords mixed with a southern swagger in the chorus and some sweet cowbell and there's even a traditional Spanish sounding tune, 'Senor Ray', with some lushious slide guitar reminding me of early Queens of the Stone Age. It's the new sound of Stoner Rock 'n' Roll so give it a whirl!