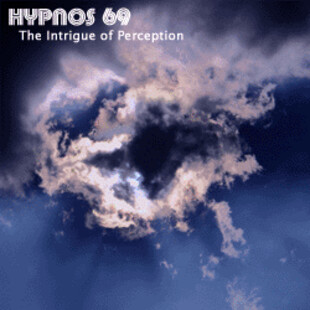 It has a very silly name. The cover has a nice picture of clouds/sky on it. You load it into your cd player and it tells you there are 8 tracks on this record and it lasts for 69 minutes. A browse through the booklet tells you there's a saxophone player in the band and the songs are called things like 'The Endless Void,' and 'A Castle in the Sky.' You catch the faint smell of wizards. Yep, we're in prog country for sure. Very old school prog country too, very, very much in the Pink Floyd vein. All that's missing is some Storm Thorgerson or Roger Dean artwork and a bearded man dressed as King Arthur screaming the word "Prog!" at you for 15 minutes before breaking into an extended harmonized hammond organ/guitar solo to make it any more obvious.
Thankfully for Hypnos 69, I like prog. It involves a lot of work initially, but I've always viewed it as a learning experience, like learning to see those stupid magic eye pictures. It seems impossible at first, but once it clicks, it stays with you and you start being able to appreciate it for what it is without putting massive amounts of thought into it. Right, wizard bashing aside, what's the music like? To sum up the album in one word, it would have to be 'good.' A cop out I realise, but it is. It's a very lovingly made album and brings to mind the musical glory days of 70's progressive music like no other album I've heard recently, but the vast majority of it fails to grab the ear the way that really long songs need to so the listener is engaged. There's a lot of grade 'A' stoner on the album, but there's also embarrassing stretches of self-indulgent cod-rock guff, like the overblown posturing of 'Twisting the Knife,' and by the time the umpteenth saxophone solo kicks in, you feel your eyes start to roll.
Maybe I'm biased slightly against the album without realising it. For the past few years, I've been getting more and more into the new wave of heavy progressive music produced by the likes of Tool, Isis, Pelican and Neurosis, and have been leaving behind the rare gems I found in my parents record collection. While I hold fond memories of Pink Floyd, I grate my teeth every time some band is quoted as saying their next album will be their 'Dark Side of the Moon,' and to hear large parts of the Floyds work as shamelessly lifted as I did while listening to this album vexes me. Large parts of 'Good Sinner - Bad Saint,' sound almost exactly like 'Money,' and there are huge lumps of 'Echoes,' in 'Castles in the Sky.'
Perhaps I'm being a little harsh. The album as a whole is very good, (as long as you have a higher tolerance for brass instruments than I do), and the only real let down is the general lack of originality, the aforementioned 'Twisting the Knife,' and that bastard saxophone which should be melted down and made into a replica of Excalibur or something. Anyone who's into their old school prog and has exhausted their back catalogue of Yes records, but who's too ashamed to go into a record shop and buy an album by a band called Spocks Beard, (and that should be all of you) will thoroughly enjoy 'The Intrigue of Perception.' Personally, I'm ripping a few of my favourite tracks to MP3's and enjoying them in isolation.
With this album and with the new Mars Volta offering, maybe prog is set to make a comeback? Although if anyone else tries to make another album called 'The Six Wives of Henry VIII,' there'll be some serious trouble and enforced listenings to The Locust for anyone involved. You have been warned.