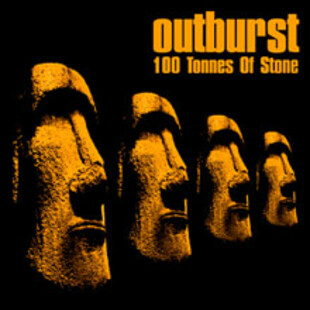 Ah yes, this is good to hear - a UK band coming through with quality songs that straddle the stoner rock and doom boundary. Leicester's Outburst may not be known to you yet, but with any justice (and a bit of luck) this won't be for long, if 100 Tonnes of Stone is anything to go by.
This stylish six-track demo instantly sets the tone with the sub sixty-second instrumental opener 'S-9000', with its fuel-injected, riff-led immediacy. 'Pitchburner' follows and favourably brings to mind the likes of Orange Goblin and Alabama Thunderpussy, with its rough stoner rumble.
There's a nice mix of elements involved, with even a hint of Anthrax, particularly in the metal assault of 'El Diablo'. The only fear you may have when listening to 100 Tonnes of Stone - that it may become cheesy or hackneyed - is never a problem, thanks largely to the classy doom delivery.
With only Blood Island Raiders doing anything like this ilk or quality within the undergrowth of UK stoner and doom, it's refreshing to hear such an accomplished release. Well worth tracking down.