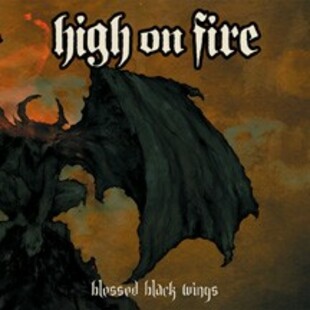 Yes. It lives up to the hype! Anyone who has browsed on sr.com the past few months will have seen numerous reports of the new HOF being the best thing in the world ever. Well ok maybe it doesn't quite live upto that, but it's an amazing record, and not just for us stoner/doom/whatever types!
The album comes with nice cover art, as we have grown to expect from all things of Matt Pike, with a huge black demon with huge black wings! We also get one of those bonus DVDs, which has 5 live tracks on video(so not an audio-only dvd, the real deal here!) which is a nice little teaser for the live experience.
The first track, "Devilution", reminds me quite a bit of Slayer. I never understood why people ever compared the two bands, but now I know. It's fast, it's metal, something which will be a trend in this album. Next up is "The Face of Oblivion" - and marks a clear departure from the band's earlier work. The two most noticable changes are the frequent use of palm muting giving it a meatier feel, and also some quiet, almost Maiden-esque interludes. But not the cheesy type, the type Mastodon have been toying around with lately! "Brother in the Wind" follows up with a more familiar HOF, similar to the sound of Surrounded by Thieves. After the solid title track, "Anointing of Seer" takes the record in a new direction. The constant wall of guitars through this song and the amount of energy it emits is fantastic, and makes you want to turn the volume right up. Finally, the epic "Sons of Thunder" closes the cd, beginning with very quiet clean guitars, for a second you could be mistaken in thinking you're listening to 5ive, but eventually the trademark pummelling drums kick in and you know where you are!
Blessed Black Wings certainly has the most variation on it compared to the other HOF records, and for this reason it's possible your average metal fan may like it, which couldn't be said for the previous two cds. It is very classic metal influenced - Slayer being to most obvious comparison, but HOF have their own very distinct flavour. Simply put, HOF is the music of Sauron and they will crush you all!