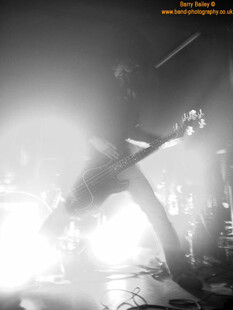 The last time I saw Cult of Luna was with Isis and 27 at Manchester's Roadhouse, in 2003. They were simply amazing - immense walls of unrelenting heaviness that managed to put superb sets by their tour mates in the shade. So, with new album 'Salvation' just out, there's an excitement around the place as they take to the elevated stage.
Yet it all kicks off rather slowly. Hidden behind eerie blue lighting and silhouetted against dry ice smoke, it soon becomes apparent that Cult of Luna have changed tack somewhat since their last visit to our shores. No longer are they trying to pummel your eardrums into a pulp, instead attempting to create an 'atmosphere'.
So, slightly disappointed, I try to get into the spirit of things - I should like these ten-minute tracks back to back that don't really ever get going - I should think of it as an experience. I should understand, be educated - this is 'intelligent' metal music for the new millennium. Needless to say, it's no use. I find myself silently pleading with them to play something from their brilliant sophomore album 'The Beyond', itself not exactly on a par with 'California Crossing' in its levels of simplicity, but something with weight and direction. But it's to little avail as they continue along the same vein.
Don't get me wrong - it's still all impressive and the 'atmosphere' does impact and draw you in for long periods. On another night (maybe after several less beers than I had at this gig) I may have thrown myself into the experience that is Cult of Luna late-2004 wholeheartedly. As it is I leave feeling a little empty, and find myself thinking back fondly to the Roadhouse last year.
Photos by Barry Bailey. www.band-photography.co.uk. Used with permission.