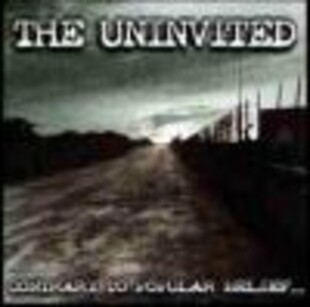 With seven tracks making up this EP and the production at a high standard, first impressions are that this isn't your average demo. Following in the path of Raging Speedhorn, HHH, Beecher and even Capdown, Yorkshire's The Uninvited recorded this, their debut release, at Corby's Premier Studios, and the resulting sound is highly impressive.
While Contrary to Popular Belief... is in the vein of many bands straddling the line between Will Haven and Iron Monkey right now, what sets The Uninvited apart (and makes this so exciting) is some quality songwriting. There appears to be an undercurrent of rock in the writing, applied to sludge in a similar way as Entombed did to death metal so gloriously on To Ride, Shoot Straight and Speak the Truth.
Even on repeated listens this demo continues to surprise and blow you back. The riffs that litter this recording are ferociously heavy and sound immense throughout its twenty seven minute entirety. The Uninvited have the potential to make a real name for themselves, so visit the website or catch them live, buy the demo (for the price of a pint, including postage and packaging) and enjoy.