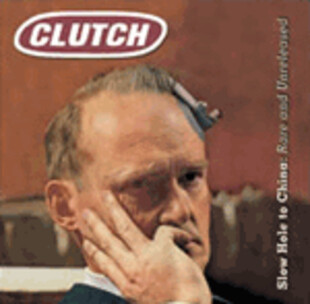 Albums containing 'rare and unreleased' recordings are generally best stayed clear of - often exercises in running out constricting contracts cheaply or cynical marketing ploys to milk the fan for all they've got. Not so with Slow Hole to China. What we have here is every Clutch fans dream - a perfect compliment to the classic stoner grooves that litter the bands fruitful history. Recorded between 1999 and 2002, the style inevitably echoes that heard on Pure Rock Fury, Jam Room and even rekindles memories of the stunning The Elephant Riders. Never ones to distance themselves from their followers - bootlegging of gig tapes is positively encouraged, for example - the release of Slow Hole to China is purely for the fans, you feel - and Clutch have built a very loyal base across the globe.
Encompassing songs from a period of 4 years wouldn't so much as get a second thought for other bands - look at Chinese Democracy for Christ's sake - but with Clutch, an album like this was always going to struggle due to their ever changing song mood. While not technically concept albums (a term I'm sure they'd wish to distance themselves form anyway), Clutch have always managed to create distinct feelings on each release - whether it be the bass led, futuristic lyrics of Clutch, or the true chill out session that is Jam Room - which lends to their appeal, and the anticipation of each new release. So while this album does not necessarily contain the flow of their illustrious studio albums, enabling you to let yourself skip tracks now and again, it does contain some of the best straight-up rocking tracks you're likely to hear all year.
What makes Clutch stand out from the overcrowded pool of stoner bands around today isn't only the tightness and innovation of the rhythm section, the occasional brilliance on guitar - not even the growling assault by the most entertaining lyricist of his genre. No, Clutch is much more than the sum of their parts - Fallon, Gaster, Maines and Sult combining to form a truly special band of vast feeling and power. Gladly, Slow Hole to China encompasses all their signature sounds, yet remaining fresh, exciting and vital. 'Four Lords (and One More)', 'Guild of Mute Assassins' and 'Sea of Destruction' contain the huge, growled-yet-cheerful choruses that have been synonymous with them since they ditched the almost hardcore musical approach to their early albums, while 'Oregon' is a slow burning beauty reminiscent of the vibe of Jam Room, with Fallon on his best mad-cap lyrical form: 'I made a ruckus with a succubus; Before she knew I was amphibious.'
The real prize gem of the album is, however, reserved for 'Rising Son' with its positive, Newton-defying mantra of, 'Gravity is such a drag, and we will not obey' dominating the chorus. Despite its upbeat tempo and flow, 'Rising Son' contains a subtle undercurrent of beauty and joy, in a way in which only Queens of the Stone Age's 'Regular John' springs to mind as any sort of comparison.
The album isn't without its weak tracks - 'Nickel and Dime', while containing a huge riff, becomes tiresome on repeat listens, and 'Day of the Jackalope' is a bit formulaic for its own good. These are only highlighted for the aforementioned lack of flow to the album - you'll have to rediscover the SKIP button again, long lost on my c.d. player from perpetual listens to The Elephant Riders and Clutch and......well, you get the idea.
Released on their own label, River Road, Slow Hole to China follows in the footsteps of lesser known past Clutch releases such as the Pitchfork EP and Live at the Googolplex of a couple of years back, with its availability restricted to Internet purchase. Where as the live album was later to find a UK distributor for all the techno-phobes out there, this is not the guaranteed evolution for Slow Hole to China. With a new album, Blast Tyrant, due out in March, and the awkwardness of $/£ converters and Internet transactions, it would be easy to miss out on Slow Hole to China. But if you are a fan of Clutch then you need this album. Shit, if you're a fan or rock then you'd be denying yourself some real beauty if you let the manner of its release become a barrier to its purchase. You have the address, now what you waiting for?