Supersonic festival has been a permanent fixture in my live music calendar for some years now. The Capsule girls know how to throw a good party and as expected, Supersonic 2008 was an absolute delight, boasting an eclectic cross section of music, film, art and cake. Anyone that's attended the Capsule girls flagship event over the past years will know that it's one of the best European festivals going. With a stellar line up featuring Harmonia, Earth, Battles, Wooden Shjips, The Heads, Oxbow, Asva, Guapo and Alexander Tucker, there was plenty of good music to go around.
In the spirit of post festival "Top 5s" I'm picking my personal Top 5 to give you a brief taste of Supersonic 2008.
5. Gravetemple - Space 2, Sunday
The stage sufficiently misted with dry ice, Gravetemple begin their set with pulsing low frequency oscillations. As their performance progresses, so too does the intensity, gradually building like a slow spectral creep, shot through by O'Malley's fractured dissonant chord structures. Attila chants and intones messages from somewhere beyond the veil, his hands tracing out symbols and ciphers behind a curtain of illuminated fog.
It's interesting to note that there's a very direct feeling to Gravetemple's appearance this evening, the band seemingly opting for a less theatrical approach than one might expect. Thankfully, the lack of spectacle is more than compensated for by the quality of the music.
Roughly twenty minutes into the set, a barrage of hyperspeed black/death metal drumming begins to fade into the mix. Like some sordid beast rising from the depths, Matt Sander's percussive assault elevates things to an entirely different level. A blur of blast beats and insistent double kicks transfers Gravetemple's psychedelic dirge into a truly propulsive experience. Attila's tact alters accordingly, switching from ghostly chants to banshee-like shrieks and screams, his voice cutting through the dense foliage of low end throb like a machete. When the fog finally clears and silence descends, no one is left in any doubt that Gravetemple have delivered a captivating and intense performance, staking their claim on the drone landscape as a force to be reckoned with.
4. Oxbow - Space 2, Sunday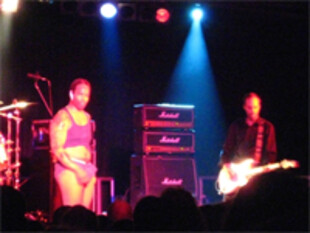 This is my first experience with Oxbow as a fully fledged live band, having only seen them last year as a duo supporting Isis and KTL. Eugene's intimidating, sexually charged stage presence is more than enough to hold anyone's attention, viewed no doubt with a certain perverse curiosity as people asked the question "what's he going to do next"?
The microphone spends a good deal of its time in Eugene's pants between animalistic howls and sordid propositions. Oxbow's tightly wound set of cutting grooves and bittersweet melody was superb. Both energetic and animated, they were the first band of the day to have real stage presence. Oxbow are the kind of band you watch between your fingers but no matter the temptation to avert your gaze, curiosity will always get the better of you. Eugene is impossible to ignore even if he does become a little friendly with the contents of his pants. Oxbow are both visually and musically captivating, putting some much needed danger back into live music.
3. Dälek - Main Stage, Friday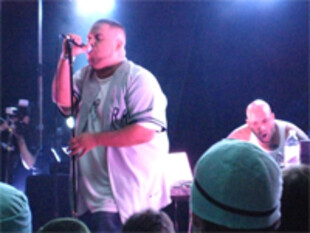 Whilst I'm admittedly not the biggest hip-hop fan, Dälek never fail to completely floor me every time I see them. I can't wax lyrical about Run DMC's debut album, nor can I recite for you any classic Public Enemy lyrics but Dälek are a band who've come to occupy a very special place in my heart.
Anyone I speak to who claims they don't like rap music is generally scorned for their ignorance, then swiftly instructed to go and buy a Dälek record. You see, Dälek aren't your run of the mill hip hop act. For starters, their music is free of the usual macho posturing that tends to pervade rap music and Dälek are one of the few artists pushing the boundaries of their chosen genre. Both on record and in the live arena, the sheer density and impact of their sound puts many a metal band to shame.
Dälek's Friday night performance on the main stage catered for both head and heart, combining passionately delivered, intelligent lyrics with a stark sonic backdrop of molten beats and processed noise. It just goes to show that you don't need traditional instruments like bass and guitar to be devastatingly heavy. During their set I bump into a friend who exclaims "bloody hell, I don't really like hip-hop but this is amazing, are they always like this?". "Yes", I reply. "Yes they are".
2. Merzbow and Keiji Haino - Space 2, Sunday
The live pairing of Merzbow and Keiji Haino was always sure to be something special but having frequently been disappointed by noise acts in the live arena, I approached their set with some measure of scepticism. To my mind, good "noise music" should offer the listener either unparalleled sonic excess or a detailed, painstakingly constructed canvas of sound in which the listener can immerse him/herself. Merzbow and Haino's set catered very much to the former, quickly dispensing walls of rhythmic white noise, accompanied by Haino's frenzied improv guitar histrionics. As their performance unfolded we were treated to hurdy gurdy abuse, free form drumming and squealing theremins. Haino alternated between many instruments and noise making devices, pausing only for child like vocal intonations and temper tantrum screaming.
The surprise of the set was Masami Akita's very proficient free jazz influenced drumming, which added a semblance of structure to their crumbling waves of feedback and noise. But structure be damned, their performance wasn't about structure, it was all about sensory overload and abandon, and it was hard not to feel exhilarated and energised by their granular tempest of sound. As stated earlier, I've found that much "noise" fails to deliver on its promise of sensory overload but the sheer power of Haino and Merzbow left me utterly satisfied. It's not without good reason that both are legends in their own right.
Devastating.
1. Harvey Milk - Main Stage - Saturday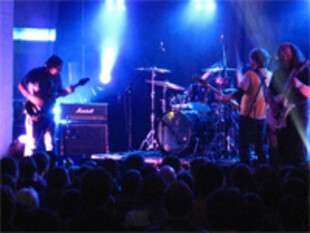 Waiting for Harvey Milk to step onto the Custard Factory's main stage is a rather singular experience in itself. The anticipation is palpable and expectations are high as we wait for Harvey Milk to make their first ever live appearance in Europe.
Needless to say it's a bit of a special occasion, so when they do finally make their appearance, it's to a ruckus of cheers and yelps of joy before a single note is struck. The set opens with "Crush them all", demonstrating to devastating effect the twin assault of Creston and Preston. It's truly something to behold, as they storm through a flawless collection of high octane rock, crushing doom and anthemic ballads.
Mile wide grins and child like glee amongst the true believers in the front rows pay testament to the Milk's brilliance. They belt out a sterling set with songs drawn primarily from "Life... The Best Game in Town", "Special Wishes"; and "The Pleaser" as well an old classic off "My Love is Higher...". It would be safe to say that Harvey Milk were surpassed by no one at Supersonic, perhaps the tightest band of the festival with the songs and musical chops to back it all up. Here's to another tour next summer!
Many bands narrowly missed out on being in the hallowed top five, so I felt an honourable mention should go to the following bands:
The Heads rocked with fuzz laden abandon. Wooden Shjips channeled some seriously laid back krautrock influenced grooves. Guapo cut a sumptuously seamless prog medley from their last three albums. Earth evoked dry desert landscapes and tumbleweed with guest appearances from members of Asva. Cutting Pink with Knives proved to be the embodiment of pure entertainment and did a stand up job of opening the festival on Friday. They get bonus points for spending more time off stage than on it.
Roll on Supersonic 2009.