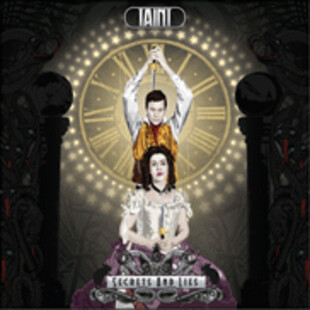 After scooping top spot in the reader's top ten of 2007, and 4th spot in the writer's poll with their second album 'Secrets And Lies' I got in touch with singer/guitarist Jimbob to see what they're upto.
Ok, first of all, how does it feel to have scored top spot in the Ninehertz reader's top 10 albums of 2007, repeating your feat of 2005 for your previous album?
"Well, it's great and flattering to have your top spot once again. Hopefully it attests to your choice in fine music platters, and overall interest in heavy rock music."
I have noticed that you guys are getting a fair amount of critical acclaim in the rock press these days, do you find that rewarding after a decade of existence, or is that something that is low on your list of priorities?
"Again, having such good responses to the album is welcome as far as we're concerned. Without wanting to reflect too much on the past, it is somewhat rewarding to at least get some kind of recognition. We spent a lot of formative years together, but we're more interested in what we can do in the present and future. Ultimately, we've always made music to please ourselves first, but connecting with people as a result is a great thing."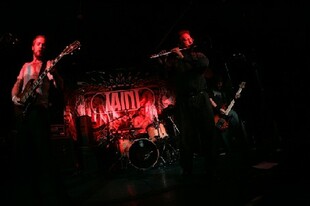 How supportive have Rise Above been for you in terms of stepping up a gear? It must have been rewarding to get the album out 2 years after the last one, when you look back at how long it took for the first album to surface?
"Rise Above have definetely helped us in terms of recognition, but they didn't help us write the album any quicker as it were. That was down to us making the decision to keep the creative momentum going, and to put as much into the band as possible. Lots of hours on the motorway, and extended jam sessions went into the relative speed at which we released the album. We're having a good time on Rise Above, and have always appreciated their legacy before and since working with them."
You seem to have found your feet now in terms of the style of music you play, are you happy with the sound, or do you still have ideas to expand it? The addition of the flute in 'What the Crow Saw' was a suprising touch at first, but it works well.
"Sure, I agree that we've established a sound, and appreciate the formative years of the band for giving us the influences and experiences that they did. We know that we want to keep expanding our sound, and will follow what comes naturally to us. I think we've evolved even more, in between '..Roma' and 'Secrets..', and are excited about what will follow. 'What The Crow' saw is really fun for us. The idea to bring Will in on flute came from the main verse/vocal melody. Lyrically it depicts a city invasion, and alludes to a zombie epidemic and it's aftermath. I think the flute enhances the 'old-tyme' tragedy of it all. I can understand that it surprised people, but like I said, we're here to please ourselves and have fun with music."
What music inspires you at the moment, anything new that is floating your boat, or are you still mainly influenced by the traditional stuff?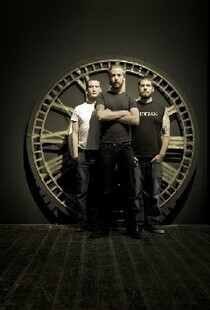 "Sure, I love a lot of new music. I'm a relatively recent convert to the Dillinger Escape Plan, and a big fan of Anthony And The Jonhnsons. I still hold all my life-long favourite bands close to my heart, and have learned more things from them while listening to them with new ears. Discovering older bands like Yes and others that passed me by has been inspiring too. Also, plugging in and playing along to 'Take As Needed For Pain' by Eyehategod is still a pleasure that I like to indulge in fairly regularly."
How do you guys go about writing songs? Does one person bring an idea in, or do you collectively write?
"It's a good mixture of the two. Chris and I often write riffs at home before the three of us build and shape them into a song. Alex lays down whatever he instinctively pulls out, and a lot of riffs, structures and ideas come out from jamming and discovering what moves us together."
You've got some exciting dates coming up, a UK tour, another trip to Europe, including an appearance at Roadburn. What can we expect this time around?
"I guess you can expect some kick-arse heavy rock. Live and lewd!"
Any bands in particular that you're looking forward to sharing a stage with?
"Yeah, it's always a pleasure to see Art Of Burning Water on a nightly basis, and to have giggling fits with them in various after-show situations. Helped along with our shared enjoyment of consuming cannabis and ale. The dates with our Savannahian bros Baroness and Kylesa was equally enjoyable, and of course Roadburn will be a lot of fun. It'll of course be interesting to see how sharing a stage with old heroes of ours will be, in sharing the stage with Down. We grew up on Pantera, Crowbar and Eyehategod, so hats off to those gents"
Are you noticing your crowds changing, or drawing more people in away from the more traditional hardcore and underground crowds that you usually attract?
"Not generally. The crowds change in as much as it depends who we're playing with. I've never been able to put my finger on a typical Taint fan, or attendee. So it's hard for me to say if we ever attracted only specifically underground or hardcore crowds. I think we've always been outsiders to an extent, so would say that we've always gained a diverse crowd wherever we go."
Finally, what can we expect in the future for Taint? Any plans for further tours or releases, or are you taking it as it comes?
"Well, we can only take things as they come. In as much as we still have jobs to think about, but we do have plans. We're hoping to get over the U.S and even Japan at some point, as they seem to be fairly achievable, amongst the logistics involved. We're continuing to jam and write new songs, so we'll be gather up tunes for album no. 3 slowly but surely. We're not in any rush though, and plan to move further in our evolution as a band."
Link: www.taint.co.uk